Eyeing the Olympic mountain bike race in Paris, Peter Sagan will retire from WorldTour racing at season's end
Finishing how he started, the former road world champion will race one last mountain bike-focused year in 2024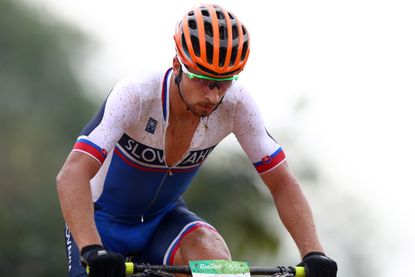 (Image credit: Getty Images)
Three-time road racing world champion, Peter Sagan, today announced that 2023 will be his last season on the WorldTour.
Not done racing, Sagan has instead set his sights on mountain bike "enjoyment" at the 2024 Olympics in Paris, stating:
"I would like to say the moment has arrived. I decided I would like to finish this season as a rider in WorldTour races. I would like to prepare for the Olympic Games in mountain bike," Cycling News reports from Vuelta a San Juan, where Sagan has finished second in the fourth stage yesterday.
"I always said I would like to finish my career on the mountain bike, because I started my career on the mountain bike," Sagan said. "It gives me some pleasure at the end of my career because I'm doing something I really enjoy."
Sagan, today known for being one of the most powerful and versatile riders in the peloton, began his cycling career in mountain biking as junior. He won the junior cross-country race at the 2008 UCI Mountain Bike World Championships before moving to road racing with the Liquigas team.
In January of 201, at the age of 19, Sagan raced is first UCI Pro Tour race at the Tour Down Under. He has since amassed 121 pro race wins, including three world championships titles, 33 Classics victories and 17 grand tour stage wins. Thirteen of those where at the Tour de France where he's also finished in the green sprinter's jersey an unprecedented seven times.
In recent years, he's dabbled with off-road riding, briefly returning to mountain bike racing at the 2016 Summer Olympics in Rio, attending gravel events like the 100-mile race at Unbound and even, partaking in the E-MTB race at the UCI Mountain Bike World Championships.
He's truly one of the top riders of his generation but, while still aiming for victories in coming season, the time to put an end to his illustrious career has come.
"It's important for me to spend time with my son Marlon and to see life from different angles, and not just as a cyclist. It was never my dream to race or to be a professional rider until 40 or 50," the Slovakian stated.
To end his career on the mountain bike in 2024 is a dream, albeit not a golden one.
"It's not about the medal or something...It's just something I always wanted, to finish my career on mountain bike and next year is Olympic year. But I wanted to do it for me, and not for anybody else," he said.
Currently racing at the Vuelta a San Juan, Sagan will have a full 2023 program with his TotalEnergies team, including Spring Classics and the Tour de France. He said he wants to enjoy his last year and to do so, he wants to operate in his top level so we may just see him add to his palmares yet.
Thank you for reading 10 articles this month* Join now for unlimited access
Enjoy your first month for just £1 / $1 / €1
*Read 5 free articles per month without a subscription
Join now for unlimited access
Try first month for just £1 / $1 / €1
Cycling Weekly's North American Editor, Anne-Marije Rook is old school. She holds a degree in journalism and started out as a newspaper reporter — in print! She can even be seen bringing a pen and notepad to the press conference.
Originally from The Netherlands, she grew up a bike commuter and didn't find bike racing until her early twenties when living in Seattle, Washington. Strengthened by the many miles spent darting around Seattle's hilly streets on a steel single speed, Rook's progression in the sport was a quick one. As she competed at the elite level, her journalism career followed, and soon she became a full-time cycling journalist. She's now been a cycling journalist for 11 years.