3T offers unfinished framesets, so you can create your own design
New ready-to-paint 3T framesets let you choose your own finish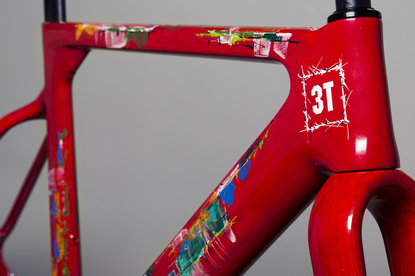 3T says that the RTP (that's ready to paint) version of its Exploro and Strada framesets will allow you to choose your own custom frame painter and design to produce a completely unique design. The frame comes already prepared for painting.
3T says that it will showcase some of the paint jobs on its RTP framesets on its blog (opens in new tab), in a section called "Get Creative". Its first entry features a 3T Exploro frameset custom painted by Dario Pegoretti in Italy.
There's another custom painted Exploro Flatmount in the works for US road race champion and Aqua Blue Sport rider, Larry Warbasse.
As well as individual consumers, 3T suggests that the approach might be of interest to dealers who want to make small runs of special framesets and other brands who want to offer a distinctive product.
3T's approach goes one step further than many brands, like Wilier, Orbea and recently Ribble too, who offer you a choice of colours when they paint your machine themselves, but usually still with standard panel lay-out.
3T can make suggestions of custom frame painters you might like to use, if you've got an idea for a design but need someone to execute it for you.
And 3T has also recently announced its own custom colour option, with a limited edition Haute Route version of its Strada frameset, which you can buy as a package with entry to the Haute Route itself. It comes in a front-to-rear fade orange, that 3T says is really striking in the bright sunlight of the high Alps. The Haute Route version of the 3T Strada comes with 3T's new Torno chainset and a THM carbon cockpit.
>>> New 3T Strada Pro brings 3T's aero machine to a lower price point
Along with the race entry fee, the Haute Route Strada Pro costs €5000, while a Strada Team with race entry and full hotel accommodation comes in at €7800.
Thank you for reading 5 articles this month* Join now for unlimited access
Enjoy your first month for just £1 / $1 / €1
*Read 5 free articles per month without a subscription
Join now for unlimited access
Try first month for just £1 / $1 / €1