3T and THM release a one by specific aero crankset for the 3T Strada, and it looks amazing
You can aero-optimise anything if you try hard enough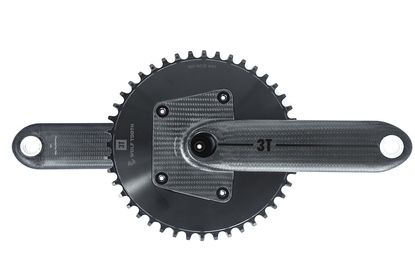 3T has released an aero-optimised, one-by specific crankset designed to partner with the 3T Strada, the brand's first one by specific aero bike.
The new crank is called the Torno and was designed by 3T's sister company THM, a brand renowned for making lightweight carbon products often featured on the lightest bikes available. For that reason the Torno comes with the same price tag, costing €1,049.
3T says it viewed the crank as the toughest aerodynamic problem, explaining how the leading edge of the shape becomes the trailing edge 180 degrees later. Then there's the major influence of the forward speed and the minor influence of the rotational speed while you also need to take into account the chain running over the chainrings.
Read more: Are single-ring chainsets the future?
The brand says that the best aero shape was one that was 12mm thin at the pedal end. This NarrowQ technology, as the brand are calling it, helps reduce the Q-Factor of the bike by 4mm to 142mm, keeping your feet closer for a "biomechanical" aerodynamic advantage.
The spider is also integrated into the crank arm for stiffness reasons, but it is separated spatially from the drive-side crank for aero reasons with 3T saying that it'll fit the dedicated Wolf Tooth aero rings in either 36t, 40t or 44t sizes. These are one-by specific and use Wolftooth's DropStop tooth pattern for the best performance and has the same countersunk bolt pattern as the Torno's spider.
Watch: Is the compact chainset dead?
Lastly, the 3T Torno features THM's carbon axle, which is directly integrated into the drive-side crank arm and spider.
The weight of the crankset from THM is typically light at a claimed 330g for 172.5mm arms, axle and spider. Although it's not the lightest available, that honour, according to 3T, goes to THM's Clavicular crankset.
Unfortunately, the murky world of road bottom bracket standards appears to apply here, too. Helpfully, though, 3T says that it should fit any frame with a BB386EVO, BB30, Press t30, Shimano Press Fit, BBrightTM, Italian threads and Press Road BSA. The crankset is also not supplied with the bottom bracket.
3T has also helpfully supplied us with the gear ranges available should you partner the Torno crankset with a 9-32 cassette:
36t ring is equivalent to a 48-34 with a 12-30 cassette
40t ring is equivalent to a 53/36 with a 12-29 cassette
44t ring is equivalent to a 54/36 with a 11-26 cassette
3T merged with THM in 2016, and admits that it would not have been able to create the crank without the help of its sister brand. Supposedly, the Torno features the same in-house manufacturing as the rest of its products, and is also compatible with the 3T Exploro, 3T's one by specific adventure bike.
Thank you for reading 20 articles this month* Join now for unlimited access
Enjoy your first month for just £1 / $1 / €1
*Read 5 free articles per month without a subscription
Join now for unlimited access
Try first month for just £1 / $1 / €1