3T Strada aero road bike review
The new aero 3T Strada has a lot of hype behind the single-ring set-up and the claims to be super comfortable too. But does this aggressive racing machine live up to it?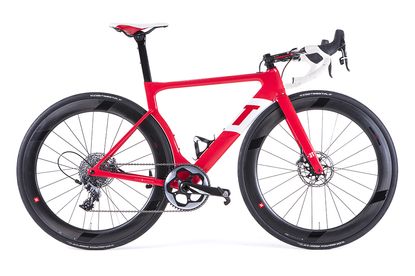 (Image credit: Cycling Studio)
The 3T Strada bike is without doubt a futuristic bike, it handles very well and undoubtedly feels seriously fast. That particular build with the deep 3T wheels did cause big concern when it comes to crosswinds which, added with the twitchy handling, left me a little vulnerable in exposed sections at times.
Reasons to buy
+

Fast feeling

+

Nimble handling

+

Undoubtedly aero

+

Comfortable
Reasons to avoid
-

Gearing needs to be thought about

-

Seat post kept slipping

-

Not crosswind friendly

-

Price
You can trust Cycling Weekly. Our team of experts put in hard miles testing cycling tech and will always share honest, unbiased advice to help you choose. Find out more about how we test.
Get The Leadout Newsletter
The latest race content, interviews, features, reviews and expert buying guides, direct to your inbox!
Thank you for signing up to The Pick. You will receive a verification email shortly.
There was a problem. Please refresh the page and try again.
3T turned many heads when it first introduced the Exploro, the world's first aerodynamic dedicated adventure bike. The Italian brand has done it again with its roadgoing, aero 3T Strada. Now everyone is asking the question: is it any good?
3T has claimed to have changed the way it looks at 'real world' aerodynamics and the way the bike should feel in terms of comfort.
To help comfort levels the 3T Strada allows for anything up to 30c tyres – our 28c Continental tyres here actually size up to 30c thanks to those wide 3T wheels.
Conventional wisdom has it that narrower tyres at the front are more aerodynamic, cutting through the air more effectively.
However, the 3T Strada throws that out, and uses a number of features to help that wider, more comfortable tyre become more effective aerodynamically overall.
3T Strada frame
One key feature of the 3T Strada is the Fundi aero fork which has a short stack crown. Basically, it is lower than normal without compromising the tyre width and allows the wheel to be closer to the down tube.
That, along with the 'Squaero' shaped fork legs, is said to be aerodynamically effective but also leads into the next phase of the drag where it meets the down tube. You can see in the picture below how close the front tyre is to the frame.
Another aero advantage is the use of the ARCfoil down tube, which is said to support the arcing airflow that meets this section of the bike.
The white paint and 3T logo on the down tube are said to show that arc-shaped airflow: it is supposed to be effective as a standalone tube as well as an overall system with the fork.
3T has also followed the guidelines from the likes of the Pinarello F10 and hides the bottle cages behind a flat surface to further help airflow in this area.
However, unlike any aerodynamic-focused bike we've tested 3T, with its "paradigm shift", has gone 1x (aka one-by) and has removed a chainring and the front mech to totally clear up what the brand calls the "worst area aerodynamically".
3T says that this system is not only better aerodynamically, but saves weight, is less complicated with fewer components, meaning less weight and less hassle too.
The geometry compared to the likes of the well handling Specialized Venge Vias disc is shorter and lower in terms of stack and reach.
It has a smaller head tube and wheelbase too, so expect nimble and fast handling. Those ballooned 28c (30c) tyres should offer greater comfort, too.
Cabled routing is internal and routed in the top tube for aero purposes. This bike is mechanical so there is no getting away from cables.
The build here caused frustration with the cables being routed either side of the stem. Out of the saddle I constantly hit my knee on those cables and it annoyed me so much so I had to mention it.
This can be rectified: I've seen Adam Blythe of Aqua Blue – who'll use this bike for 2018 – route them on one side of the stem and tie the cables against it. Possibly something to change on an update in the future.
Specification
3T provides the setup throughout of course, apart from the Fizik Antares Versus saddle, Continental Grand Prix 4000 S II tyres (28c) and SRAM Force one-by groupset.
The small-sized frame I have here will be supplied with a 90mm stem, 400mm width bars and 170mm cranks. I changed the stem to a 120mm to suit.
SRAM 1x is great; the clutched rear mech is a thing of beauty and functionally works very, very well.
Shifting is precise and robust. The bike is provided with a 50t chainring up front and a 11x36 at the back and boy, does this look strange on a road bike.
Gearing wise that suited all my rides. I never felt I needed a bigger gear, I never felt I needed a smaller gear.
I'm not climbing mountains though, or even climbing for more than 20 minutes, nor am I sprinting against the fastest boys and girls in the world. So where does this system fit when you go racing? That is something we've yet to see.
Jumps between gears are big and there is no getting away from the fact you'll always be slightly over or undergeared at some stage on your ride.
To be totally honest, this will always be when you're suffering and it'll be the first thing you'll blame. I did! But it is good to remember when you're suffering there is never the right gear on any bike!
The 3T Discus C60 Team wheels are terrible in the wind. I felt every nudge at the front thanks to those deep hoops. But that makes you think: is it just the wheels?
Consider the wheels, discs, big cassette and aero properties of the frame: none of it helped in the crosswinds. The ride characteristics of the frame don't help this either: the nimbleness of the handling played a part in the unpredictable handling.
Ride
The 3T Strada weighs, complete on our scales, 8.3kg. It means it isn't the lightest aero bike around and, if directly compared to two similarly sized aero disc bikes like the Canyon Aeroad or the Specialized Venge Vias disc, (which both sit below the 8kg mark) you could argue you're losing out here.
The 3T Strada has a knack of feeling light on its feet at slower speeds though, and pulling away from traffic lights or climbing average gradients I didn't feel like I was being held back.
Speaking of climbing, the 3T does dance nicely out of the saddle, showing that the gearing specified wasn't an issue at all for the roads around Kent and Surrey.
The 50t front and 11x36 rear gave me all that I needed in the extremes. However, anything tougher like a pass up north or some climbs in Majorca and I'd want something lighter and with smaller gears.
Laterally, stiffness seems good. Those 12mm thru-axles limit brake rub and the BB386Evo bottom bracket showed no signs of weakness under load.
Handling wise, the 3T Strada is very good, especially if you like a nimble bike.
That low crown height and shorter wheelbase play havoc with toe overlap but do allow for fast-paced handling and really make you feel like every input has a positive effect.
Racing this bike will make for a fun bunch experience and I'm sure will enable you to take on gaps in an instant.
Comfort is top notch too, and although 3T claims that that is mostly down to the tyres, I bet the square seatpost helps reduce some of that rear-end road-buzz.
Fitting 28mm tyres, which sit like 30mm tyres, has only come about via the inclusion of discs on the road. Although I feel 30mm is overkill here, they do a great job at cushioning without taking away that lively feeling.
3T claims it will take 30mm tyres but do take care, because one trip through the lanes with some mud pick-up and you'll be hearing the rub between rubber and dirt on the frame for a bit.
This'll also take some paint off the inside off the seat tube. I also feel that tyres this wide take some getting used to.
I spent much of my time with the 3T actually wondering where I was in terms of grip when pressing on in the corners. Of course, you'll have a massive amount of grip especially with those Contis, but running lower pressure on wider tyres changes things. Something to bear in mind.
During the time testing this bike (for around a month in winter), through cold conditions, rain and sun, the one thing I never got to grips with is the buffeting from the wind.
Add together the deep wheels, aero shaping of the tube, discs and massive cassette, and you've got a lot pressing on the side of the bike.
That topped off with the quick nature of the handling made for a very nervy and unpredictable ride.
Descending at 50/60kph down Star Hill in Kent was my most recent memory of "oh ****!"
Saddleback says it does supply builds with shallower wheels and of course you can purchase box rims for your everyday rides, but isn't that like sticking a set of steel rims on your Ferrari?
I also had an issue with a slipping seatpost which I eventually solved with a lot of carbon paste.
Those cables at the front could be a deal breaker if you bought this. Of course SRAM wireless groupset could do away with at least one cable but currently the American brand doesn't recommend using that system with 1x.
Value
In terms of pricing, this aero 3T Strada is pushing the envelope here.
The 3T Strada frameset alone is £3,600. It sits above the Canyon and below the Specialized in terms of pricing (complete £7,550) but it terms of what use you'll get out of this (everyday use), I don't see it sitting above those other bikes.
The one or two frustrating niggles for me would make me question my high-end purchase, though if something a bit different and comfort is a trait you really care for, then the Strada is definitely worth looking at.
Thank you for reading 20 articles this month* Join now for unlimited access
Enjoy your first month for just £1 / $1 / €1
*Read 5 free articles per month without a subscription
Join now for unlimited access
Try first month for just £1 / $1 / €1