Everything you need to know about the SRAM CX1 groupset
Cycling Weekly chats to SRAM's JP McCarthy, road product manager and expert in CX, about why riding a single-ring 1X groupset off-road is the better choice over a standard double ring chainset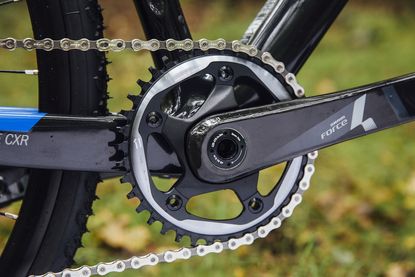 Promotional feature with SRAM
SRAM's 1X (one-by) groupsets dominate the off-road world – from cyclocross to MTB, many bike companies supply their off-road racing machines with a single ring set up.
But what is it about the system that works for cross riders and what does a one-by system actually mean?
The one-by technology comes from the mountain bike world and it worked so well that SRAM decided it could apply it to cyclocross and even the road.
"Most importantly SRAM 1X improves the rider experience," says JP McCarthy, the man that oversaw the transition of one-by technology from mountain biking into cross and finally into the road market.
But what is it?
The system is made up of three parts, SRAM's X-Sync single ring, chain and the clutched rear mech.
"Those three components are critical," McCarthy adds.
"Chain retention as well as mud clearing capabilities is important upfront and the rear derailleur helps manage chain motion. It has a clutch that keeps the chain from bouncing along with guide pulley's that all help to stop chain slap and derailment".
It's simpler, quieter and a more secure drivetrain, says McCarthy and those are the main advantages to using SRAM's 1X groupset.
Simplicity
"The simplicity really speaks to cyclocross riders, eliminating parts that might fail and parts that need to be cleaned."
"In a lap you can find up to 20 different features, as long as you've got the range in your cassette you can go into the right gear with just one hand, not worrying about the big shift at the front that can often derail."
Security
"We have been riding 2X and 1X side-by-side and we've found that the 1X has fewer chain drops than a 2X. So we are pretty confident that our 1X system is more secure and thus faster during a race than a 2X system."
Quieter
"On the 1X system we have no chain slap, we really emphasis that for 1X in general because a quiet experience is a better ride experience.
Gearing
But what about gearing? Will this system leave you spinning or, even worse, grovelling up the climbs? Well, no is the answer, although choosing the right chaining for the type of riding you do is key.
McCarthy suggests to us that a local racer, on a typical cross course will be happy with a 38t chain ring with an 11x28 or 11x32 cassette.
"What I find is that, as an amateur masters racer of some success, a 38t chain ring is all I ever need for cyclocross racing, for most amateur races a 38 to 40t chaining is all that a rider needs for closed course cyclocross racing."
At the back you get a choice too. Typically 11x28 or 11x32 will be your options for racing. Of course the 11x28 will give you a closer ratio but the 11x32 or even the 11x36 will give range to tackle most if not all obstacles you'll face.
"Whether the course is dry or wet, a cross course are only 1 to 2 km in length with lots of features but I've never been in a scenario where the course opens up enough where I've needed to exceed the 38 one by 11, even with steep descents, they are over pretty quickly."
Disc brakes
Disc brakes have been fully adopted by the cross world; you'll struggle to find a new cross bike still using the older style cantilever brakes.
The simple but ironic fact as to why everyone is using discs is that it's just faster.
"You just go faster, fast is fun and don't forget we are talking about competition here and fast ultimately helps see you to better results," says McCarthy.
Discs offer a range of benefits to the rider; whether a complete novice or a seasoned racer and McCarthy says they also have a safety benefit too – especially during the winter months.
"Temperature, mud, water, sand and ice wreak havoc on rims and brake pads. It ultimately ensures rim braking performance plummets, you get to the stage where you have to start pre braking to clean the rims.
|Where as discs in all conditions remain predictable and consistent. This helps increase your confidence, especially if you're new to the sport."
Knowing the consistency is there allows you to pick later braking points says McCarthy, utilising the power discs have to offer.
"You can go into corners faster, attack the descents and using the better modulation on offer you can control yourself during the corners too providing better overall control."
Ultimately discs offer better, faster, safer and more joyful riding but with a lighter braking motion, which can leave you fresher.
"Basically less hand force is required, which leads to a decrease in muscle fatigue and is more comfortable to use over time."
Thank you for reading 20 articles this month* Join now for unlimited access
Enjoy your first month for just £1 / $1 / €1
*Read 5 free articles per month without a subscription
Join now for unlimited access
Try first month for just £1 / $1 / €1