Campagnolo Hyperon Ultra Two wheels (tubular)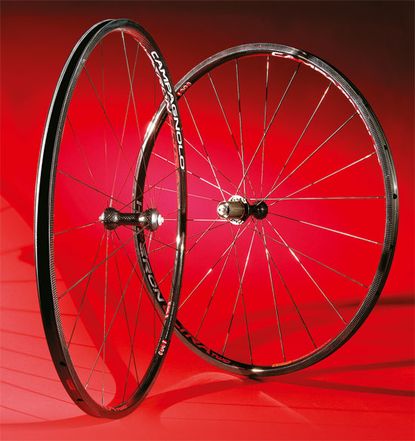 This article originally appeared in the November 2010 issue of Cycle Sport magazine

Katusha's Joaquim Rodriguez used his Hyperon Ultra Two wheels to devastating effect in the mountains of the Vuelta a Espana, enjoying two spells in the red leader's jersey and taking a stage victory, despite getting stung in the eye earlier in the day (nothing to do with the wheels, we're assured).
Caisse d'Epargne are another squad to extol the virtues of Campag's Hyperon Ultra Twos, and there's plenty to extol when it comes to these low-profile wheels: ideal for when lighter weight — 1,230g — is more important than out-and-out aerodynamics, with Campag's CULT ceramic hub bearings reducing friction by a claimed nine times over standard bearings for a more efficient ride.
www.campagnolo.com, £2,135/$3,285
Pro Choice: Why do pros ride tubulars instead of clinchers?
Apart from the saving in weight over a hooked rim, clincher tyre and inner tube, a tubular wheel/tyre set-up simply rolls better — in no small part thanks to the higher tyre pressures they can run at.
Flatting at high-speeds is also safer as the tub should stay glued to the rim rather than being cut to ribbons and dropping off the rim like clinchers tend to.
That improved performance comes at a price, however. While the pro riders can simply enjoy a spare wheel from a team car when they puncture in a race, many pros, like most of us, train on clinchers so they only need to take a spare tube.
Thank you for reading 20 articles this month* Join now for unlimited access
Enjoy your first month for just £1 / $1 / €1
*Read 5 free articles per month without a subscription
Join now for unlimited access
Try first month for just £1 / $1 / €1