Car maker SEAT teams up to launch a single speed urban bike
New urban machine gets a carbon frame, drop bars and a belt drive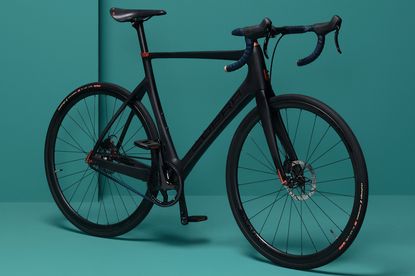 (Image credit: Santiago Garces)
SEAT has teamed up with Italian bike brand Fabike to launch the new Fabike Cupra. Cupra is the sub-brand that SEAT applies to its performance Leon models and SEAT says that it's part of its plan to extend the Cupra marque beyond cars into other products.
Seat says that "Cupra is a special brand for unique people designed to captivate customers looking for what the new brand has to offer: Uniqueness, Sophistication and Performance. The time has come for car lovers to get involved with a new brand that meets their expectations."
According to Cupra director of strategy, development and business operation Antonino Labate: "Our inaugural collaboration project [with Fabike] highlights our commitment to creating a distinct identity around CUPRA."
Fabike hand-builds its bikes in Italy and says that it aims to transfer racing bike tech to the urban cyclist. It has a range of carbon and titanium framed road bikes, as well as belt-drive urban bikes and gravel machines.
Unusually for an urban bike, on the Fabike Cupra you get drop bars rather than the usual straight bar. You also get hydraulic disc brakes and a belt drive single speed transmission.
Car manufacturers seem to love extending their brands to include bikes. We've had Ferrari branded Bianchis, McLaren branded Specializeds, Aston Martin branded Stocks, Cervélo Lamborghinis and more.
The new Fabike Cupra comes in stealth black with copper highlights and SEAT says that it will be made available through over 200 selected car dealerships across Europe as well as Fabike dealers.
Thank you for reading 20 articles this month* Join now for unlimited access
Enjoy your first month for just £1 / $1 / €1
*Read 5 free articles per month without a subscription
Join now for unlimited access
Try first month for just £1 / $1 / €1