Bianchi joins forces with Ferrari to create a luxury range of bikes
Bianchi and Ferrari announce a partnership and the production of a new range of bikes, including e-bikes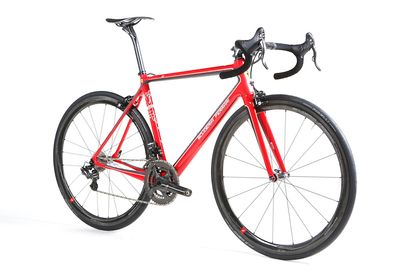 (Image credit: Guido P. Rubino)
The partnership between Bianchi and Ferarri to produce a range of "performance luxury" bicycles was formally announced today at Eurobike.
It's an interesting partnership, but one that makes sense in many ways. For starters, according to Bianchi, the same properties define both cycling and high-end motorsports.
The Italian companies are planning on making a variety of bike models, including road, mtb, city, kids... and e-bikes. Each new bike will be branded with the Scuderia Ferarri, carrying the iconic logo of the car company.
Announced at the show was the Triathlon Concept, a no-holds-barred tri bike which the companies say is at the forefront of aerodynamics and technology. it incorporates Bianchi's patented Countervail vibration damping technology as well as integrated disc brakes.
On show too was the SF01 road bike. It has a claimed frame weight of 780g and also includes Countervail tech. Kitted out with Campagnolo Super Record EPS or Shimano Dura-Ace Di2, the bike is handpainted and comes in either Ferrari red or black. Other components are also custom-made for the SF01, including its Ferrari-branded Astute carbon saddle and Fulcrum Speed 40C Carbon wheelset. To complete the Italian theme, the tyres are Pirelli's newly-launched P Zero Velo clinchers.
>>> Bianchi Via Nirone 7 review
Technology, performance, lightness, aesthetic research and material essence are key in both the two wheeled and the four wheel world.
To this end, the research and development teams of both Bianchi and Ferrari with work closely to develop the new range.
Both companies are iconic in their respective sports, with Ferarri being the most successful team in the history of Formula One.
Watch: Bianchi Specialissima review
On the partnership, Bianchi's owner Salvatore Grimaldi said that "we strongly desired this collaboration with Ferrari" before continuing "we will continue to develop the project over the next years thanks to the combined efforts of two Italian excellences.
Working together will allow us to develop new products shaped by the mix of top class knowledge and expertise from the two parts, creating successful and innovative models just like Bianchi and Ferrari have always done"
So far, 2017 has been a busy year for Bianchi, which recently released the new Bianchi Aria line of aero bikes.
Bianchi says that we'll hear more about the collaboration in August at Eurobike.
Thank you for reading 5 articles this month* Join now for unlimited access
Enjoy your first month for just £1 / $1 / €1
*Read 5 free articles per month without a subscription
Join now for unlimited access
Try first month for just £1 / $1 / €1