Colnago launches new V2-R aero bike
The Colnago V2-R is top-end aero race bike intended to replace the Italian brand's V1-R model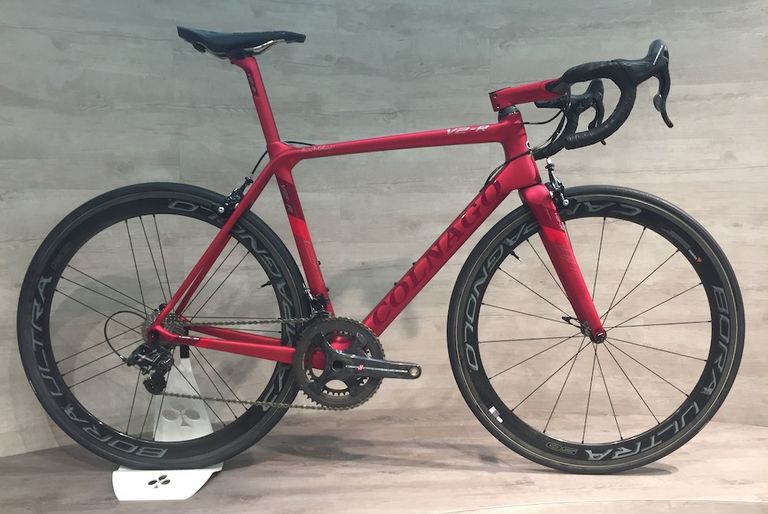 The Colnago V2-R is the Italian brand's latest creation and is a "top-of-the-line carbon-fibre monocoque frame."
Colnago is one of the world's oldest bicycle brands, having been designing and manufacturing bikes since 1954, and racking up over 63 years of experience in the process.
Colnago has based the design of the V2-R on its predecessor, the V1-R, which was originally a collaboration with Ferrari. According to Ernesto Colnago, "this bicycle is an evolution of the V1-R monocoque. It improves on the design yet it retains the same high-quality construction and methods."
The most notable difference to the frame is the redesigned seat tube collar, which is now integrated into the frame with a wedge design similar to that on the concept frame. The integrated seatpost bolt now results in a much cleaner look.
The V1-R featured a bottom bracket-mounted rear brake; however, this has been revised for the Colnago V2-R, with the rear direct-mount caliper now situated on the seatstays.
According to Colnago, the bottom bracket-mounted brake caused issues for cleaning and also power meter compatibility.
Having tested the bike in the wind tunnel, Colnago insisted this change has made a minimal impact to the aerodynamics of the bike.
Repositioning the brake has allowed Colnago to create increased tyre clearance too, which is now up to 28mm.
The integrated seat collar and revised rear brake placement initially added weight to the new design. Colnago described how one of the design objectives for the new V2-R was to at least maintain the frame weight of 835g achieved on the V1-R.
Colnago claims it has been able to do this through "new carbon-fibre technology," which was employed allowing for thinner wall thicknesses, "reducing overall frame weight by weight by 35g."
Elaborating more, Colnago explained, "we have reduced the wrinkles in the tubes, which has allowed us to use the same amount of material, but reduce wall thickness."
http://www.instagram.com/p/BVzuMevA7YH/?taken-by=cyclingweeklymagazine
Using a mixture of Torayca and Mitsubishi carbon-fibres and the new processes, Colnago suggests the V2-R is 13 per cent stiffer in the bottom bracket and 4 per cent stiffer in the head tube.
Other key details include a slightly revised geometry, with a 4mm shorter head tube on the Colnago V2-R relative to a V2-R. This has been done to make the bike more aggressive.
The front cable port is now situated on the down tube, something which is intended to also house junction boxes.
Another nice detail is Colnago's proprietary TF82.5 threaded bottom bracket standard, into which press fit bearings are fitted. The new Colnago V2-R will also be available in a disc-brake-specific model, although UK pricing and availability is yet to be announced.