FIRST RIDE: INDEPENDENT FABRICATION SSR 953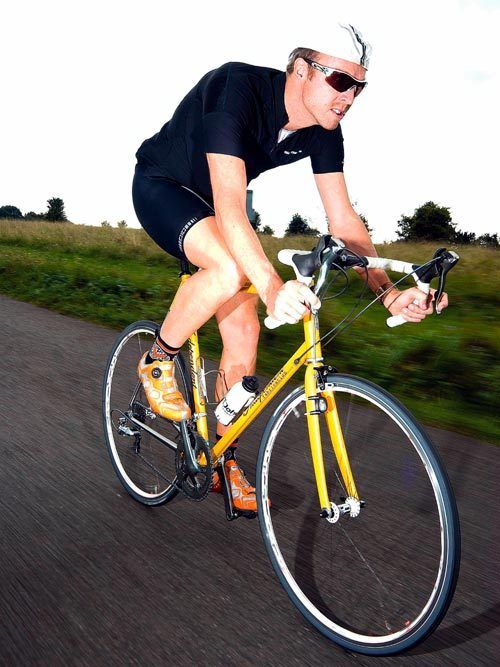 Based in Massachusetts, frame-building cooperative Independent Fabrication has been making frames in steel since 1995 and is renowned for quality workmanship.
Titanium sits at the top of their range, but this new 953 frameset is their top-end steel offering. With each frame built to order, custom spec comes as standard ? if that makes sense!
A Shimano Dura-Ace groupset was fitted to our test bike and Independent?s importer, Mosquito Bikes, also added a Chris King Headset and Zero Gravity brakes. The DT Mon Chasseral wheels were another nice touch, with white details and black spokes complementing the yellow frame. An all-carbon Stella Azzurra seatpost and handlebar set-up added a taste of carbon to the steel mix.
The last steel bike I rode was a custom-built Andy Perks, so the 953 had a lot to live up to. It did not disappoint. Despite being a little larger than I would have chosen, the 953 is a great ride. Areas where carbon has its limitations, such as on broken roads and long rides, were noticeably more enjoyable.
This didn?t mean that it gave a dead ride either ? technical descents were soaked up and sprints handled with ease, and there was no sign of any lag or delay that older steel frames tend towards.
Any reservations about steel bikes being sluggish or heavy were soon forgotten. Weighing just over a kilo more than my Colnago Extreme-C, but giving a smoother ride than many carbon-framed bikes, the SSR 953 is a definite consideration for anyone who fancies something a little out of the ordinary.
Independent Fabrication SSR 953
ImporterMosquito Bikes 020 7226 8765
Price£2,350 (frame and forks)
FrameIndependent Fabrication Reynolds 953
ForkReynolds Ouzo Pro
Size rangeCustom
GroupsetShimano Dura-Ace
AlterationsChris King headset, Zero Gravity brake calipers
Gear ratios53x39 with 12?25
WheelsDT Swiss Mon Chasseral
TyresMichelin Pro Race
BarsStella Azzurra
StemStella Azzurra GPA 4.8 carbon
SeatpostStella Azzurra Monza
SaddleSpecialized Toupe
CW FIRST IMPRESSION: 8/10