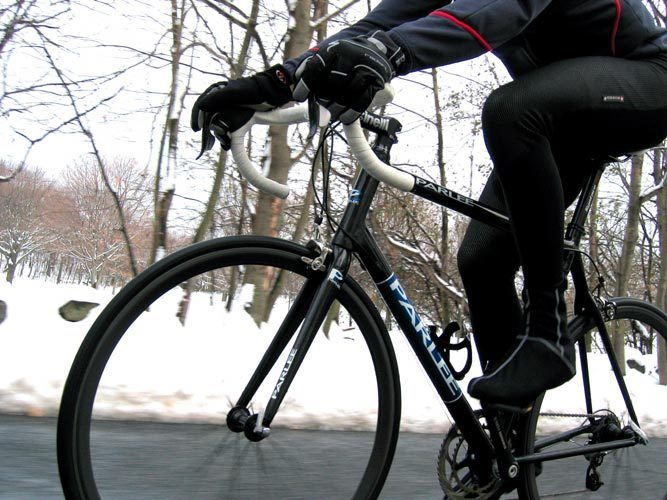 Testing bikes sounds like a dream come true for a cyclist ? a constant stream of new stuff to play with ? but the reality is never quite the same as riding your own bike, and it?s often a pleasure to get back on it. Parlee?s Z4 broke this trend, being the first test bike I would choose to ride instead of my own.
Cheapest in the range it may be, but this is not reflected in the build, with manufacturing techniques and tubes directly borrowed from the Z3 (CW Race Bike of the Year 2006), and classy finishing touches like the carbon cable-stops also remaining.
In a nutshell, it?s a progression of Parlee?s ?no compromise? and ?no expense spared? approach to custom bicycle design, put into stock frame production, at a less exclusive price.
The £2,100 tag for frame, fork and headset opens the brand up to a wider customer base, but the hand-made quality is still clearly evident, with every join and detail tailored impeccably and given higher priority than weight saving, although the Z4 still weighs under a kilo. Aesthetics and scales aside, the ride is simply superb.
It?s a bit of a David and Goliath; a skinny, minimalist tubular frame, not a beefed up colossus like many others, but with an outstanding performance that can only be the result of really understanding the material and getting the best out of it. You can feel the stiffness, a little less than the Z3, but less of the bumps too, so clearly an excellent balance has been struck.
The Z4 is possibly less race-orientated and is even edging into an awesome sportive contender or century machine. There?s nothing to dislike about the Z4; the only problem was giving it back.
PARLEE Z4
DistributorBespoke Cycling, 020 7739 0119, www.bespokecycling.com, www.parleecycles.com
Price£2,100 frameset
Weight6.9kg
FrameCarbon, handmade
ForkParlee Carbon
Size rangeS, M, ML, L, XL
Weight19lb (excl. pedals)
GroupsetShimano Ultegra SL
DeviationsBlackwell carbon levers
AlterationsNone
Gear ratios53/39 with 12-23
WheelsControl Tech Carbon
TyresVittoria Corsa Tubulars
BarsPRO Vibe Carbon
StemPRO PLT Carbon
SeatpostPRO Alloy
SaddleFizik Arione CX
CW FIRST IMPRESSION: 10/10