How to look after your new wheels
If you've spent a lot of money on some new wheels, then you need to make sure that they last as long as they should. So here's your guide to how to make your new wheels last a lifetime. In association with Chain Reaction Cycles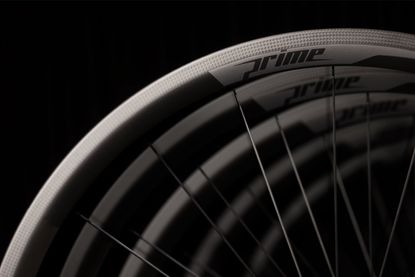 Buying a pair of new wheels should transform the performance of your bike, upping your average speeds and making you a faster rider.
>>> Road bike wheels: a complete buyer's guide (video)
Whether you've spent nearly £2,000 on a pair of deep section Zipp 808s, or just £300 on some Fulcrum Racing 3s, you want to make sure you get your money's worth, which means following a few steps and maintenance basics to make sure that they are kept in perfect condition for as long as possible.
1. Use the right brake pads
Most wheels will come with brake pads supplied in the box, and although it might be tempting to just whack in your new wheels so you can get out on the road as quickly as possible, it's really important that you switch the brake pads over first.
For a lot of people, upgrading to new wheels will mean a step up to either carbon wheels, like the Prime RP-38 wheelset, or aluminium wheels with a special braking surface, like the Mavic Pro Exalith. These both require special brake pads, and if you don't use the right ones then not only will the braking be rubbish but you could also damage the rims too.
2. Clean your brake pads
While you're out riding (especially during winter) your brake pads are inevitably going to pick up little bits of grit and glass from the road, and even bits of metal from your aluminium rims. Over time this can build up into a very abrasive surface that can wear down the braking surface of your wheels and even damage carbon rims beyond repair.
>>> How to look after your brake pads and rims (video)
It's therefore a good idea to pay particular attention to the brake pads during your (hopefully regular) bike cleans, picking out bits of metal and cleaning out the grooves with a small flathead screwdriver. This will also give you a chance to keep an eye on the wear of the brake pads, investing in new ones if they're looking overly worn.
3. Clean your rims
Just as important as maintaining your brake pads is keeping your rims clean. Not only will having lots of muck on your rims mean that braking won't be as good as it could be, but it will also cause premature wear to both the pads and the rims.
All you need to do this is a bit of isopropyl alcohol (which can also be used to clean your disc rotors) that you spray on the rims then wipe them down with a soft cloth.
4. Don't jet wash the hubs
Pressure washers have their place in cycling, but that place is not for washing wheels. The last thing you want to do is blast your hubs with high pressure water, getting water into the bearings.
>>> How to clean your bike in seven minutes (video)
Instead just wash the hubs with hot, soapy water. This might be more of a task than just blasting any dirt off with a jet washer, but the task will be made much easier if you invest in a special wheel cleaning brush that will help to get in-between the spokes and give the hub a good scrub.
5. Keep an eye on the bearings and freehub
Over time and through extensive use, it is normal for freehubs to develop play, resulting in sloppy shifting, and wheel rub on the brake. You can check for it by trying to move your cassette laterally against the wheel. There should be no movement, but if there is, it likely it needs tightening. Bearings need to be replaced periodically, but in our experience they last a very long time.
It is also a good idea to have your freehub stripped, cleaned and regreased once a year too, to keep it in optimum condition. A mechanic at your local bike shop can help, but if you would like to do the job yourself, we suggest a medium grease like Shimano Workshop Grease. You will require some specific tools (note that Campagnolo hubs require different tools Shimano and SRAM hubs).
6. Check spoke tension, especially on disc brake wheels
New wheels can often bed in after your initial riding, meaning that is not uncommon for the spokes to require slight tensioning. This is easily done with a spoke key, but if you are not confident it is a quick job for a trained mechanic at a local bike shop.
This is more prominent with disc brake wheels, where a slight loss in tension can result in vibration when braking, often causing a lot of noise.
Essential Checklist
Make sure you use the right brake pads for your new wheels
Keep both the rims and the brake pads clean...
... But don't be tempted to do this with a pressure washer
Check bearings for play
Strip, clean, and regrets bearings every year
Check spoke tension after a few weeks of use, especially with disc brake wheels
Thank you for reading 10 articles this month* Join now for unlimited access
Enjoy your first month for just £1 / $1 / €1
*Read 5 free articles per month without a subscription
Join now for unlimited access
Try first month for just £1 / $1 / €1
Founded in 1891, Cycling Weekly and its team of expert journalists brings cyclists in-depth reviews, extensive coverage of both professional and domestic racing, as well as fitness advice and 'brew a cuppa and put your feet up' features. Cycling Weekly serves its audience across a range of platforms, from good old-fashioned print to online journalism, and video.