Thibaut Pinot spotted with a new unreleased Lapierre at the Giro d'Italia
Thibaut Pinot appears to be riding what we suspect to be a new, custom painted Lapierre Aircode at the Giro d'Italia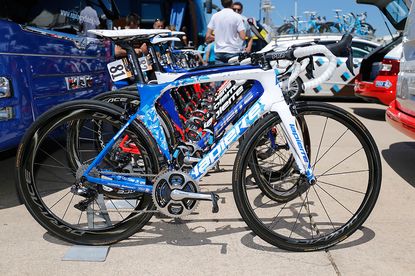 (Image credit: Yuzuru SUNADA)
Thibaut Pinot's FDJ team bike at the Giro d'Italia would be appear to be a new model from the French brand Lapierre.
The likelihood is that the new bike is the Lapierre Aircode 2, which appeared on the UCI's approved frames list on the March 21, 2017.
The Lapierre Aircode is the French company's aero bike and sits along side the lightweight Xelius model, which Pinot has favoured in the past.
In addition to being a new frame model, Pinot's Lapierre has a custom blue and white paint job that has also featured on his Lapierre Xelius team bike.
The paint job is rather unique, with blue and white and white geometric patterns layered upon each other. Close inspection of the seatpost suggests there is some kind of rubber insert, probably to increase compliance.
The top tube, seat tube junction is radically different too, with a triangular profile reminiscent of some modern time trial bikes.
The geometric pattern certainly stands out from the crowd and has colour coordinated Elite bottle cages. Unfortunately the paintjob makes it difficult to properly see the shape of the new bike.
Watch: Giro d'Italia preview - stages 1-9
The cockpit doesn't appear too radical, lacking the heavy integration of bikes like the Trek Madone and S-Works Venge ViAS. Instead there is a direct mount front brake and standard bar and stem combo. Pinot is running a 125mm Pro Vibe Stem.
Riding for a Shimano sponsored team, Pinot's bike is fitted with the latest Dura-Ace R9150 Di2 groupset and Dura-Ace wheels a C-60 on the rear and a C-40 on the front on this occassion. Interestingly, Pinot is using a SRM power meter rather than Shimano's own power meter.
Pinot's chainrings are 54-42t although we suspect these will be swapped when the Giro d'Italia enters the mountains.
Thank you for reading 20 articles this month* Join now for unlimited access
Enjoy your first month for just £1 / $1 / €1
*Read 5 free articles per month without a subscription
Join now for unlimited access
Try first month for just £1 / $1 / €1