Look updates its Kéo Blade pedals
Look makes improvements to its premium road pedal range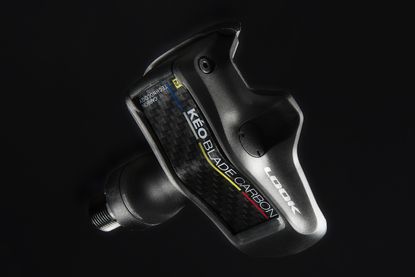 (Image credit: Jean philippe Ehrmann)
The Kéo Blade pedal range has had a makeover, with Look completely redesigning it for enhanced efficiency and power transmission.
Look stresses the pedal's light weight – just 95g each for the top spec titanium model. It's also got a large 700 square millimetre, 67mm wide engagement platform, to ensure a strong pedal-to-cleat interface and good power transfer.
Look has completely redesigned the oversized pedal spindle too, with a new end-cap design for increased resistance to water ingress. The inboard sealing is also improved, with a new double seal.
The Kéo Blade pedal turns on an inboard roller bearing and an outboard needle bearing. These have been placed 25% further apart in the new design than in its predecessor for added rigidity and improved power transmission.
>>> Look updates its Kéo 2 Max pedals
The cleat is closed by a carbon blade, rather than a spring. This saves around 40% of the weight of a conventional spring and leads to good weight distribution. It's also more aero, as the blade sits flush with the underside of the pedal body.
>>> Clipless pedal systems explained
Look says that the blade gives a firmer foot hold once engaged and works faster when you need to unclip. There are three tension levels available, dependent on the stiffness of the carbon blade.
Look says that it's extensively tested the new design at its plant in Nevers, France, where the Kéo Blade is assembled. This has involved a rotation test of 2 million cycles at 100 rpm, under a load of 90kg.
>>> How Look makes its clipless pedals
It says that this is equivalent to its pedal ambassador André Greipel sprinting for 333 hours non-stop and is much more demanding than the international standard test. Other pros using the Kéo Blade include Romain Bardet, Nairo Quintana and Fabio Aru.
Aimed at racers, the new Kéo Blade range includes the top spec 95g Titanium model, with a titanium axle and a weight for a pair plus cleats of 248g.
>>> A tour of Look's retro bike collection
The mid-range Kéo Blade Carbon has a steel axle, weight per pedal of 110g and a weight for a pair with cleats of 288g. Both the Kéo Blade Titanium and the Kéo Blade Carbon have a stack height for the pedal and cleat of 14.8mm.
Finally, the base model Kéo Blade has a composite body, a weight per pedal of 120g and an all-up weight with cleats of 308g a pair. It's got lower tension spring options, a slightly higher stack height of 15.8mm and a smaller contact surface area of 400 square millimetres.
Thank you for reading 20 articles this month* Join now for unlimited access
Enjoy your first month for just £1 / $1 / €1
*Read 5 free articles per month without a subscription
Join now for unlimited access
Try first month for just £1 / $1 / €1