MET launches new Grancorso ebike helmet in line with new ebike safety standard
Launch of new NTA 8776 safety standard and the MET Grancorso ebike helmet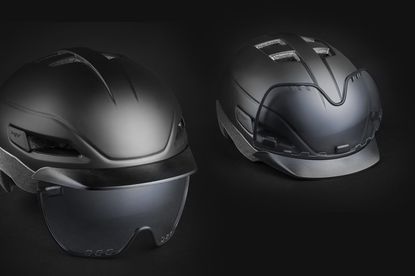 Promotional feature with MET
With the rapid development of ebikes more and more people are commuting and using their pedal-assisted machines to navigate their urban lives. As the technology got better and better, new applications emerged, like speed ebikes, which allow you to ride ever-faster – with assistance up to 45km/h.
These speed ebikes, unlike regular ebikes which are limited up to 25km/h in the UK, are classified as mopeds. This means you won't be able to ride one on bike paths, and you'll need insurance, tax, a driving license and to register the bike to use it, but you'll get where you're going faster and with more assistance.
As ebike use changes as a result of faster motors and longer-lasting batteries, the protection for the rider has to do the same. This necessity for greater, more specialised protection led to the development and launch of the new NTA safety standard. NTA is the first safety certification created for helmets dedicated ebike use.
To get a bit more info on this new spec, we spoke to one of the brands that helped to develop it – MET Helmets – which just released a brand new video on the topic of speed ebike safety.
https://vimeo.com/259832982
We caught up with Matteo Tenni, project manager at MET Helmets, to get the low-down on the brand's Grancorso, the world's first NTA-certified helmet – as well as the certification itself.
How did the NTA safety standard come about?
Matteo Tenni: The NTA standard was born in the Netherlands. There was a gap in the regulation regarding speed ebikes. Indeed, speed ebikes were considered in most European countries as a motorbike.
That caused a lot of confusion, as people started using speed ebikes in all parts of ways – some of them with number plates – but mostly without a proper helmet. Some speed ebike users wore motorbike helmets, which are not really suitable to bike use because they're totally enclosed, extremely heavy and they lack any sort of ventilation – making them ill-adapted to physical effort.
As a result, the transportation minister of Holland opened a worldwide consultation with bike companies and other stakeholders to address the issue. After one year of development, we arrived at the NTA 8776.
How was MET involved in the development of this new standard?
MT: As experts on all kinds of bicycle helmets for the last 30 years, MET was asked to help with the development of this standard. Indeed, we are one of the few helmets brands to have our own internal lab – where we can test helmet performance in respect to all different types of impacts, speed and energy.
We've worked a lot on impact studies, to develop a standard for bicycle-appropriate helmets – ones that are ventilated, relatively light and compact – so speed ebike users can ride in safety.
So… NTA is developed specially for users of speed ebikes. Is it also suitable for ebikes?
MT: Of course. It really just provides an extra level of safety for all devices where you are building up your speed quickly and where you trend to maintain a much higher average speed.
What are the main characteristics of this new standard?
MT: There are two main characteristics. Firstly, the speed of impact. The same types of impact are tested as with a regular bike helmet certification, but the speed of the impact is 21% higher. This has led to impact energy 43% higher that the helmet has to dissipate to respect the legal limit of 250 G deceleration. It's worth noting here that MET self-imposes a further threshold 20% below this G-force limit – in order to provide an even better and safer product where the helmet is more likely to be impacted.
The second element is coverage – compared to a CE-certified helmet, an NTA EPS shell has 10% more impact-tested coverage around the two most sensitive brain areas: the back of the head and the temples.
Why do you think it's relevant standard worldwide?
MT: As said previously, it's a standard that closes a gap. For now, only the Netherlands has adopted it, but there are serious discussions across Europe. NTA really guarantees a good safety level for ebikers and speed ebike users.
What are the main construction differences between the Corso (EN 1078 certified) and the Grancorso (NTA 8776 certified)?
MT: The main differences are the double shell, a thicker EPS liner and a higher density of the EPS. The shell is also thicker.
We also added the magnetic eye shield – which was specifically developed in order to provide an advantage at speed, while using ebikes and speed ebikes. It's removable, so you don't have to ride with it on all the time.
Could you explain to us how you are able to test the resistance of a helmet?
MT: First we work with 3D modelling, where we can run impact simulations. This gives us pretty precise results which we are then able to check with physical samples. This allows us also to optimise the construction, distributing material of the helmet where it's needed and removing it where it's not. Then, after the first samples, we proceed to internal testing before and after the certifications. We also run batch testing during the whole life of the products in order to control the quality of the product for each single production.
Is it fair to say an NTA helmet is safer?
MT: The helmets need to match a specific type of use. That's to say, the requirement of ebikes or speed ebikes users are different. For that type of use, an NTA helmet is definitively safer as it's optimised perfectly for the speed reached while e-biking.
For the wearer, what are the differences they'll notice when wearing the Grancorso?
MT: Our goal is to provide a perfect helmet for cycling, no matter if it's EN or NTA certified. Our main concern was to keep a low weight (ours is only 30g heavier than our EN certified solution), good ventilation with inside channels and a perfect comfort. Realistically, it's not noticeably heavier or warmer than the Corso.
We've worked a lot on specific extra features, like the aforementioned eye shield, as well as the full reflective bottom part for visibility, and a Fidlock magnetic buckle to make your life easy when it comes to fastening the chin straps.
At the end of the day, it's a bicycle helmet that ticks all the boxes for an ebike rider's use.
Thank you for reading 10 articles this month* Join now for unlimited access
Enjoy your first month for just £1 / $1 / €1
*Read 5 free articles per month without a subscription
Join now for unlimited access
Try first month for just £1 / $1 / €1
Founded in 1891, Cycling Weekly and its team of expert journalists brings cyclists in-depth reviews, extensive coverage of both professional and domestic racing, as well as fitness advice and 'brew a cuppa and put your feet up' features. Cycling Weekly serves its audience across a range of platforms, from good old-fashioned print to online journalism, and video.