No pedals, no problem: German company launches adult balance bike (video)
New Fliz bike encourages you to unleash your inner big kid, but may also have genuine medical uses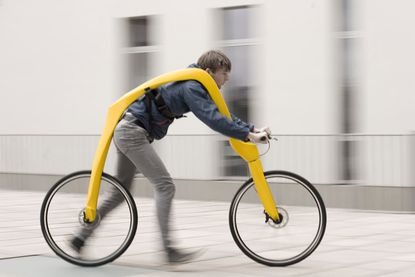 If you're looking to get your kid into cycling, one of the best ways to do this is to buy them a balance bike, a pedal-less bike that allows them to gain confidence staying upright on two wheels. But what if you want to have a go yourself? Well now you can thanks to German company Fliz, which is hoping to appeal to the big kid in all of us.
https://www.youtube.com/watch?v=tH0yyYHir10
Apparently based on Baron Karl Dreis' Velocipede, the forerunner of the modern bicycle, the Fliz bike ditches the relatively unnatural motion of pedalling in favour of the human gait to provide forward motion.
>>> The best balance bikes: a buyer's guide
Any big kids who are tempted to buy this product are strapped in using what looks like a fairly painful five-point harness. But aside from the obvious differences, this bike may not be as different from your standard road bike as it may seem. The frame is fully carbon fibre, and with the hydraulic disc brakes a wheel base that is only slightly longer than average at 1100mm, the handling should be similar as well.
However, despite appearances, there may actually be a genuine use for the concept. With no pressure on the joints and body weight distributed over a wide area, Fliz claims that the bike could be used as a form of rehabilitation and exercise therapy, allowing those with restricted movement to enjoy the freedom of the bicycle.
Interested? Well if your German's up to scratch more details can be found on the Fliz website.
Thank you for reading 20 articles this month* Join now for unlimited access
Enjoy your first month for just £1 / $1 / €1
*Read 5 free articles per month without a subscription
Join now for unlimited access
Try first month for just £1 / $1 / €1