Watch: This revolutionary sensor can measure your drag coefficient in real time
The Notio Konect Sensor array, promises to measure your drag coefficient in real time as you ride, allowing you optimise your position and equipment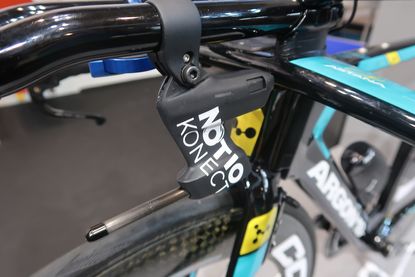 Notio Konect has just revealed a device that can measure your drag coefficient (CdA) in real time, while riding. This is an exciting and potentially revolutionary product that will allow riders to optimise their riding position aerodynamically and also allow them to test different equipment to see which is fastest.
Notio Konect is a subsidiary of bike brand Argon 18 and has developed the new product with help from the Astana Pro Team.
>>> Smart X ' smart aero bike' has raised an unbelievable amount of money on Kickstarter
We reported on a concept Argon 18 bike at the Eurobike show last year that promised to make use of this technology, by way of built in sensors to the frame and head tube. Since then it would appear the makers have decided to create a unit that can be fitted to any bike.
By measuring wind speed, humidity, air pressure, air density, temperature and cross referencing this with power, GPS and speed data, the Notio Konect can calculate your drag coefficient (CdA) in real time. This can be viewed post ride, but thanks to an open platform, there is also scope to view this in real time as you ride on a head unit such as a Garmin.
This is particularly exciting as it will allow riders to experiment with things like arm and head positions in order to establish which is faster. It is important to point out that the applications of this extend well beyond time trial, but also into standard road bikes too.
Most of the metrics relate to aerodynamics, with the bike having the ability to calculate your CdA or drag coefficient.
>>> First ride with the new Garmin Varia range of 'smart' cycling devices
In conjunction with the sensors built into the Notio Konect, other sensors can also be used. These include the normal array of power, cadence, heart rate and speed, but several new sensors too.
Biomechanical sensors can be placed on the body to measure body movements in real time. If a rider rocks their hips or moves their torso significantly, perhaps because of a weak core, the sensors are designed to spot it.
In theory, what you therefore have is a real time, outdoors movement capture device that could be of great use to bike fitters for optimising rider position biomechanically and aerodynamically.
>>> Project 49 - can an amateur ride 25 miles in under 50 minutes?
As well as heart rate, Notio Konect, (when paired with other sensors), will be able to measure heart rate variability, body temperature, lactic acid, and blood oxygen saturation, providing riders and coaches with more data than ever at the end of each ride.
The current Notio Konect shown here is a working prototype, with Argon 18 suggesting that a production version will be available in March 2018.
Regarding price, this is yet to be determined, however the makers informed us that they are working towards the price of a mid market power meter, "more expensive than a stages, but less than an SRM." This suggests a retail price around the £1000 mark.
The implications of the Notio Konect are potentially huge. The potential now exists to bring aerodynamic testing down in price and available to a much wider market - something which will help a wider demographic of riders become faster, but also help us make more informed choices about equipment selection.
Thank you for reading 20 articles this month* Join now for unlimited access
Enjoy your first month for just £1 / $1 / €1
*Read 5 free articles per month without a subscription
Join now for unlimited access
Try first month for just £1 / $1 / €1