Rapha's kit is now available in green and orange, promising a 'riot of colour' for 2018
Rapha has unveiled its new 2018 collection, revealing a series of bright and bold new colours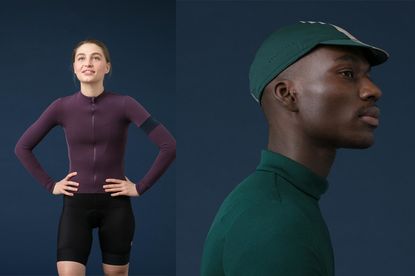 Rapha has promised to bring a "riot of colour" to the roads with its 2018 collection, encouraging riders to "paint the road".
The brand now features a variety of different block colours, including bright orange and dark green. The new collection also retains the classic Rapha splashes of colour on the arm and chest, too.
Rapha says its "2018 collection introduces a completely new range of colours to the world's finest cycling apparel, inspired by the wider view of the road to stand out on the bike".
It continues that its new colours are both bold and complimentary, chosen to either work together or breakaway from the crowd and will feature across the range regardless of gender.
More exciting still, the British brand says that the colours will be featured on brand new products still to launch later this year.
For the time being, several of Rapha's most popular items receive the new colours. This the includes the Brevet range, including the long sleeve Brevet jersey, the Windblock version and the short sleeve version, all of which are now available in bright orange.
The Pro Team kit, including the bib shorts, gilet and the Training Jersey are now available in the new colours. As are the Classic Flyweight bib shorts and Wind Jacket II.
A selection of Rapha's accessories are now available in the new colours, including its cycling caps, gloves, socks and essential cases.
Rapha's casual wear also receives a new lick of colour for 2018 (thankfully not bright orange), including the tapered Loopback trousers, Cotton trousers and Randonnée trousers. These are now available in a range of creams, browns, blues and black.
Thank you for reading 10 articles this month* Join now for unlimited access
Enjoy your first month for just £1 / $1 / €1
*Read 5 free articles per month without a subscription
Join now for unlimited access
Try first month for just £1 / $1 / €1