New Ribble Aero 883 paint job launched and it looks good
British brand Ribble updates its Aero 883 road bike with a new paint scheme which looks great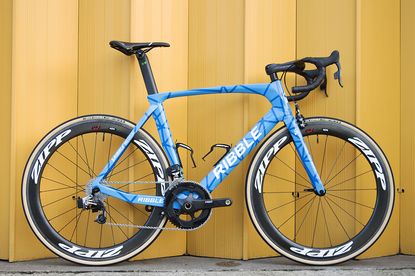 The updated Ribble Aero 883 gets an all new colour scheme that sees a new exciting development for the brand.
The new bike will be ridden by Ribble's new pro team for 2018, which will see the likes of track national champions Dan Bigham and John Archibald ride throughout the year out on the road in 2018.
Interestingly, the Ribble Aero 883 Pro Team will be available for all to purchase in this lively livery and this particular build with SRAM Red eTap and Zipp 404 Firecrest wheels will be available for £5,999.
>>> Buy the Ribble Aero 883 Team bike now from Ribble for £5999
The Ribble Aero 883 Pro Team will still retain its kamm-tail down tube and seatpost to help it aerodynamically along with its oversized chainstays and bottom bracket and direct-mount brakes.
Further still the frameset is available with Ribble's Bike Builder online tool, so if this spec doesn't suit your fancy then you can change it or add to it if you wanted to add Quarq's power meter for example.
The paint scheme is said to represent where Ribble is based, which is the Ribble Valley, Lancashire and that the custom paint scheme incorporates a visual representation of the road and trails they all ride.
Rider and manager of Ribble Pro Cycling, Jack Rees seems to be very excited about the year ahead.
"I think the public's reaction to the bike mirrored that of the riders," he said. "We are both excited and delighted to be riding what we regard as the best bike in the UK peloton. The bike and equipment package is first class and we can't wait to get racing".
Specifications:
Frame: Aero 883, blend of high-end T1000
Groupset: SRAM Red eTap
Chain: Red 22
Brakes: Shimano 5810 Direct Mount Brakes
Power meter: Quarq Power Meter
Wheels: Zipp 404 Firecrest
Bars and Stem: Zipp bar and stem
Tyres: Vittoria Corsa G+ Isotech - 25mm
Thank you for reading 20 articles this month* Join now for unlimited access
Enjoy your first month for just £1 / $1 / €1
*Read 5 free articles per month without a subscription
Join now for unlimited access
Try first month for just £1 / $1 / €1