RITCHEY WCS CARBON ONE BOLT SEATPOST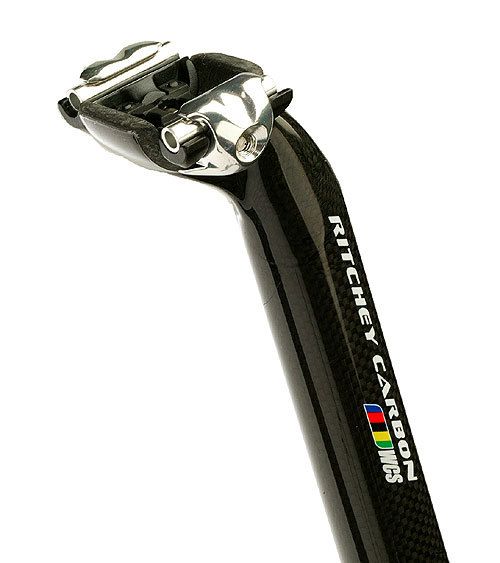 Having recently released a new carbon 4 Axis stem (CW September 27) Ritchey continues to develop its carbon WCS product range with a new seatpost too. The same carbon monocoque construction as the original WCS carbon post suggests an ?if it ain?t broke then don?t fix it? approach, and rightly so, as the predecessor is an excellent product.
There is however a completely redesigned clamp, embracing simplicity and neatness. A single-bolt clamp system means seat installation and fore/aft and tilt adjustments are a doddle, and the carbon cradle that forms the base of the clamp concentrates the rider?s weight on the post, where the strength is, improving reliability.
Be aware that oval saddle rails will not be compatible with the new clamp, but word is Ritchey is already on the case with an adapter to resolve this.
With no significant weight saving over the old design ? our 31.6 x 400mm weighed 219g ? you may be wondering why you should part with £155. Well, we think it is one of the neatest designs we have seen and will really add a sleek finishing touch, especially as minimalist saddle designs commonly reveal much more of this potentially ugly area.
The 27.2mm is available in 300mm and 350mm lengths, 30.9mm and 31.6mm are both available in 300mm and 400mm, covering most common frame requirements.
Contact Paligap: www.paligapltd.co.uk.