Tech of the week: new bikes from Spesh, Lapierre and Bianchi and more
Specialized has been making news this week with a trio of bike launches, but we've also had new machines from Bianchi and Lapierre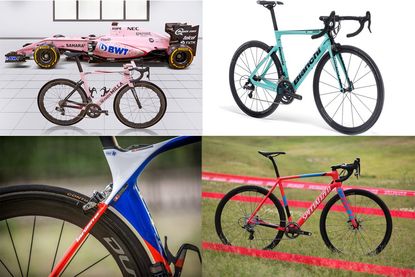 New road, gravel and cross bikes from Specialized, new bikes from Lapierre and a new aero Bianchi
First up is the all-new Allez. For £1000 or less, the entry-level alloy bike gets new geometry with a higher head tube designed to suit first time buyers. The seat stays too are lowered for increased comfort. There's room and fixtures for mudguards, internal cable routing and a new all-carbon fork. We've run through the range.
The Crux cyclocross bike has had a modest overhaul, to improve its handling while racing. The new frame is 400 grams lighter than its predecessor. It comes with different tube thicknesses and carbon layups for different sized frames, to ensure similar ride characteristics. You also get mud-repelling paintwork.
Finally, there's a radical overhaul of the Diverge gravel bike. The S-Works version is made of Spesh's highest grade carbon. It now gets space for 650b wheels with tyres up to 45mm and the Future Shock suspension head tube. There's a dropper seatpost option too. There's a women's version of the Diverge with similar geometry, but in smaller sizes.
We've also been to Lapierre's launch of its new Pulsium and Aircode bikes. We rode the Pulsium endurance bike, which gets an upgrade to its shock absorption tech. And the Aircode aero bike, ridden by FDJ, gets improved aerodynamics and handling.
And hot on the heels of its launch of the Oltre XR3, Bianchi has unveiled the Aria. Wind tunnel tested, we've given you details of the new aero machine.
Gravel we don't like and F1 bikes
With the road repair season in full swing, there's also been a petition launched calling for proper resurfacing, rather than surface dressing with loose gravel, with its skid risk to cyclists. And the Sahara Force India Formula One team's drivers now have shiny new Wyndymilla custom painted bikes to help keep them fit.
Also this week, we've given you five tips for setting up a new Garmin and found you the best deals on cycle helmets and on kit from Wiggle.
There'll be yet more new bikes next week, as more brands release details of their 2018 ranges.
Thank you for reading 10 articles this month* Join now for unlimited access
Enjoy your first month for just £1 / $1 / €1
*Read 5 free articles per month without a subscription
Join now for unlimited access
Try first month for just £1 / $1 / €1