More than 1,000 people sign petition to stop 'dangerous' road resurfacing
The petition was started after a rider apparently nearly crashed on a surface dresses road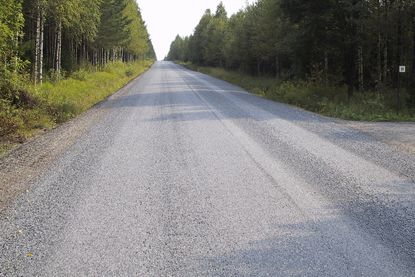 (Image credit: Flickr/Timo Saarenketo)
More than 1,000 people have signed a petition calling for roads to be properly resurfaced, ending the practice of surface dressing.
The petition was started by Danny Shafrir on June 11 after he apparently nearly fell off his bike while descending on a road which had been surface dressed in Theydon Bois in Essex.
The petition calls for the government to resurface roads instead of using a process called "surface dressing." This cost-cutting technique happens when a road is scraped, layered with tar and covered in stone chippings. The stone chippings are slowly embedded into the road by slow moving traffic.
>>> Cars, taxis and lorries banned from major London junction to improve cyclist's safety
One problem with this is that traffic can cause the chippings to accumulate on the sides of the road, creating patches of gravel which can cause dangerous for cyclists.
It's not just rider's lives at stake with motorists' precious paint jobs being subject to scratches that the thrown-up debris can cause.
One person who had signed the petition, which can be seen here (opens in new tab), said "I nearly had an accident on my bike last year because of the pools of loose chippings that get left behind."
Another called the process "bloody dangerous" for both cyclists and car drivers.
Thank you for reading 10 articles this month* Join now for unlimited access
Enjoy your first month for just £1 / $1 / €1
*Read 5 free articles per month without a subscription
Join now for unlimited access
Try first month for just £1 / $1 / €1