Vin Cox & Genesis ride into the record books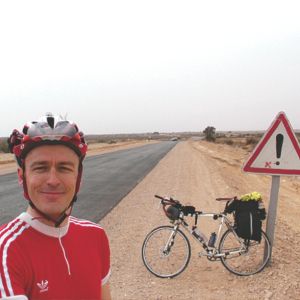 16th October 2010 Words: Matt Lamy
British bike brand Genesis is celebrating because Vin Cox has officially set the new cycling circumnavigation Guinness World Record. And he's done it on an almost-stock Genesis Croix de Fer.
We've never known such an active couple of years for round-the-world cycling attempts. First it was Mark Beaumont, then James Bowthorpe, then Julian Sayarer. For this successful bid, Cox set off from Greenwich in February and arrived back there on August 1, having spent 163 days on his bike.
However, due to the stringent checks that take place to ratify round-the-world attempts, Guinness has only just now declared him the new record holder.
Unlike previous record attempts that have tended to use purpose-built touring machines, the steel-framed Croix de Fer — which can be found selling for £999 at your local Genesis dealer — is a standard-spec cyclo-cross bike, with rack mounts already at the rear. Opting for a reliability-led swap from derailleurs to a Shimano Alfine hub-gear system, Vin created a fine long-distance machine that allowed him to complete his 18,000-mile route more than a month faster than previous official record holder Beaumont.
"Everything supplied by all my sponsors delivered high performance and was utterly reliable," Vin said on his return. "Though my bike was obviously a laden touring bike, few people I met on the way could believe how light it was and how little I needed to carry on such a long trip — I could travel light and compact only because my equipment was so good."
So, well done Vin Cox and Genesis. If you'd like to donate to Cox's fund-raising cause, which is collecting money for the Geoff Thomas Foundation, please visit: www.justgiving.com/vin-cox. (opens in new tab)
Related Story: Genesis Croix de Fer review
Related Story: British touring bikes review
Thank you for reading 10 articles this month* Join now for unlimited access
Enjoy your first month for just £1 / $1 / €1
*Read 5 free articles per month without a subscription
Join now for unlimited access
Try first month for just £1 / $1 / €1