Alejandro Valverde: 'I never tested positive... Everyone can judge me as they like'
The Spaniard says he has nothing to regret despite serving a doping ban for links to Operation Puerto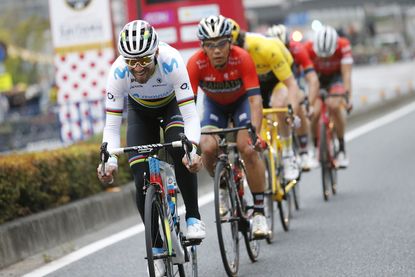 (Image credit: Yuzuru SUNADA)
World champion Alejandro Valverde says people can judge him how they wish, and that there is no question over whether he has anything to regret about his doping suspension in 2010.
Valverde, now 38, was banned for two-years for his links to Operation Puerto, in which his DNA was matched to a blood bag seized from doping doctor Eufemiano Fuentes.
The Spaniard served his suspension, returning to competition in 2012 with Team Movistar.
He has remained relatively quiet over the affair since, but questioning about it has heightened since his victory at the World Championships road race in Innsbruck in September.
In October, Valverde said that Operation Puerto was "something I shouldn't even be asked about," and that journalists asking questions "have no idea."
Speaking at the Saitama Criterium in Japan this weekend, Valverde added that after serving his ban he has got "even better" on the bike than before, and that people can "judge me as they like."
"I don't think the question is whether I have to regret something or not," Valverde told Spanish paper AS.
"I never returned a positive, but it was decided that I should be sanctioned and that's what happened. I fulfilled the punishment and since then the only thing that has worried me is to enjoy cycling.
"Everyone can judge me as they see fit. But I'm aware that I have done everything possible to show that I not only won before, but after fulfilling my sanction I have been even better."
Valverde added to AS that he expects to continue to the Tokyo 2020 Olympic Games, after which even if he does consider retirement, he'll continue to ride his bike at whatever level he can.
"[I'll] continue practising this sport, of course. For me I would never leave it, even if I don't continue riding and training at this level. But one thing happens to me, if I do not ride a bicycle, I feel worse."
Thank you for reading 5 articles this month* Join now for unlimited access
Enjoy your first month for just £1 / $1 / €1
*Read 5 free articles per month without a subscription
Join now for unlimited access
Try first month for just £1 / $1 / €1