'There were some big lessons to be had': Tao Geoghegan Hart reflects on his second season with Sky
From helping Geraint Thomas to victory in the Dauphiné to a Grand Tour debut at the Vuelta and selection for the Worlds, it's been quite a season for Sky's Tao Geoghegan Hart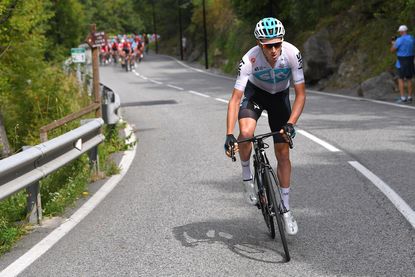 (Image credit: Getty Images)
One of the most frequent criticisms of Team Sky, until recently, was its inability to bring through a new generation of big hitters to replace the likes of Bradley Wiggins, Chris Froome and Geraint Thomas.
But over the last two seasons, its youngsters have featured regularly in the biggest events on the calendar, giving them the opportunity to learn from the established stars at the races that really matter.
Colombian phenomenon Egan Bernal has been the most obvious example of that approach this season, but Britain's Tao Geoghegan Hart has also been far more prominent than might have been the case two or three seasons ago.
>>> Geraint Thomas and Chris Froome set for dual Tour de France tilt
The 23-year-old Londoner's successful campaign included fifth at the Tour of California, 13th at the Critérium du Dauphiné — where he impressed as winner Thomas's key mountain lieutenant — and a Grand Tour debut at the Vuelta a España.
"California was great. It was only because of the time I lost getting stuck behind a crash on a sprint stage that I missed out on the GC podium, so that was disappointing, but with Egan up on the top step it wasn't too bad," Geoghegan Hart says, reflecting on the season's high points.
"The Dauphiné was also really nice, as was the last stage at Colombia Oro y Paz when Sebastián Henao and me were in the break and we ended up dropping back in the last few kilometres to wait for Egan, who had attacked out of the bunch, and we ended up winning the GC."
Geoghegan Hart and Colombian phenomenon Bernal have raced frequently together, developing a close friendship. But the Briton insists there's no competitive edge to it. "I wouldn't describe it as a friendly rivalry," he says.
"There were only one or two riders in the world who were better than him this year, so it's pretty special to work for him at those big races when we won or did well. Equally, he's always supported me when I've had opportunities to race for the win."
He adds that being around Bernal and the team's other Colombians and Spanish throughout the season has vastly improved his own grip of the language.
Lessons learned
By the time CW speaks to him, his long season, stretching from February to the very end of September, has taken a toll. Though he's always accommodating, he sounds tired.
It's just as well his biggest joy of the year came on the way to his final races at the World Championships, when his girlfriend Hannah Barnes and her sister Alice were part of Canyon-SRAM's World Championship team time trial winning squad.
"I watched it on my phone in Barcelona airport. I was feeling pretty tired that week, so it was pretty cool to watch that knowing how much work they'd put into it," he says.
He could use a pick-up at that time because he wasn't completely happy with his Vuelta performance.
"It wasn't really what I was looking for during the build-up to the race, what I had set myself in terms of expectations or goals," he says of finishing 62nd on GC.
"There were some big lessons to be had, mostly about how I approach the build-up to Grand Tours. I can see now that I had issues with hydration on those first few really hot days, for example. It was probably my biggest goal of the season and it didn't go to plan, so that does leave a bit of a bitter taste in the mouth.
"I know I made some big errors around the training blocks this season — about when to rest, when to push on, and how to approach these different blocks throughout the year," he continues.
"Every year you learn more about what works for you… You learn more about your body, about what you can deal with in terms of workload."
He's back in London to catch up with his family and indulge in what his home city offers, not least in culinary options.
"It's always like a bit of a holiday being in London," says Girona-based Geoghegan Hart, revealing he's not one for seeking out off-season sun and is happy to be back home after a hectic season of travel.
"I think it's important to have that time away from airports," he says.
During this period back at home, he will also start to look at how he can maintain his progression through the 2019 season.
"The most important thing is simply not making the same mistakes again," he says. "If you do try to keep on improving bit by bit you can all of a sudden find yourself at a much higher level when things all come together at the same moment. That's what I'm ultimately hoping for."
'He's got the numbers to be a contender'
"The second half of his season wasn't as good as the first," says Dario Cioni, Tao Geoghegan Hart's coach at Team Sky. "He was very solid indeed during the first half of the season, and especially so from the Tour of the Basque Country onwards.
He was the last man for 'G' [Geraint Thomas] a couple of times in the mountains at the Dauphiné and went pretty close to the podium in California while still managing to hold his own place high up on GC.
"He was often the guy who made the final acceleration which provided the launchpad for Egan Bernal's attacks and wasn't simply following in the wheels."
Sky will be expecting at least the same level of performance next season, says Cioni. "He'll perhaps do another Grand Tour, with the Giro the most likely option," the Italian coach suggests.
"He's got the numbers to be a performer in his own right. One of the best things about Tao is that he's got very good racing sense, far superior to other riders his age. He's been the road captain at some races, including California and the Vuelta, which is unusual for a Sky rider who is so young."
Thank you for reading 10 articles this month* Join now for unlimited access
Enjoy your first month for just £1 / $1 / €1
*Read 5 free articles per month without a subscription
Join now for unlimited access
Try first month for just £1 / $1 / €1
Peter Cossins has been writing about professional cycling since 1993, with his reporting appearing in numerous publications and websites including Cycling Weekly, Cycle Sport and Procycling - which he edited from 2006 to 2009. Peter is the author of several books on cycling - The Monuments, his history of cycling's five greatest one-day Classic races, was published in 2014, followed in 2015 by Alpe d'Huez, an appraisal of cycling's greatest climb. Yellow Jersey - his celebration of the iconic Tour de France winner's jersey won the 2020 Telegraph Sports Book Awards Cycling Book of the Year Award.