Britain top medal table at Track Euros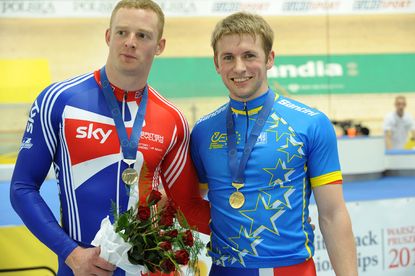 Day three evening session, Euro Track Champs photo gallery by Andy Jones>>
Great Britain have topped the final medal table of the European Track Championships in Pruszkow, Poland after securing three gold medals, two silver and two bronze.
A win for Jason Kenny in the Keirin backed up by Matt Crampton in the silver medal position this evening, moved Britain back ahead of overnight leaders France. Vicky Pendleton was unable to match the British men in the women's Keirin when she finished fifth.
Britain's final hurrah of the evening came in the closing event of the men's omnium which was won by Ed Clancy. Having taken the opening flying lap time trial on Saturday, the omnium World Champion recorded his second round-win of the competition with a time of 1:02.260.
But event-wins count for little in an event that is all about across-the-board consistency and, although generally good, others were even more so than him.
Having largely been let down by a 15th place in yesterday's Points Race, Clancy missed a spot on the podium by just one point.
The event was won by German Roger Kluge who stayed within the top-seven in all six counting rounds.
Even more encouraging then Clancy's performance in the new Olympic format omnium was Laura Trott's ride also to fourth place in the women's.
Like Clancy she performed best in the events against the clock -and the scratch race- and missed out on a medal by a mere two points. The event was won by Spain's Leire Olaberria Dorronsoro.
At just 18 years of age, Trott is still technically a junior and, following the Commonwealth Games, was riding in only her second international senior championships.
As well as riding the omnium, on Friday she had also claimed a gold medal in the team pursuit.
Medal Table
Great Britain: 3 gold, 2 silver, 2 bronze
France: 2 gold, 2 silver, 2 bronze
Germany: 2 gold, 1 silver, 2 bronze
Results

Men's madison
1. Czech Republic 2 (Martin Blaha, Jiri Hochmann)
2. Belgium 2 (Kenny De Ketele, Tim Mertens)
3. Ukraine 1 (Mykhaylo Radionov, Sergiy Lagkuti)
Men's Keirin
1. Jason Kenny (Great Britain)
2. Matt Crampton (Great Britain)
3. Adam Ptacnik (Czech Republic)
Women's Keirin
1. Olga Panarina (Belarus)
2. Simona Krupeckaite (Lithuania)
3. Lyubov Shulika (Ukraine)
...
5. Victoria Pendleton (Great Britain)
12. Jess Varnish (Great Britain)
Men's omnium
1. Roger Kluge (Germany)
2. Tim Veldt (Netherlands)
3. Rafal Ratajczyk (Poland)
...
4. Ed Clancy (Great Britain)
Women's omnium
1. Leire Olaberria (Spain)
2. Tatsiana Sharakova (Belarus)
3. Malgorzata Wojtyra (Poland)
...
4. Laura Trott (Great Britain)
European Track Championships 2010: Cycling Weekly's coverage index
Thank you for reading 20 articles this month* Join now for unlimited access
Enjoy your first month for just £1 / $1 / €1
*Read 5 free articles per month without a subscription
Join now for unlimited access
Try first month for just £1 / $1 / €1