Alex Dowsett uploads 10 mile time trial to Strava with astonishing power and speed figures
Movistar rider averaged 426 watts when he turned up at his local club time trial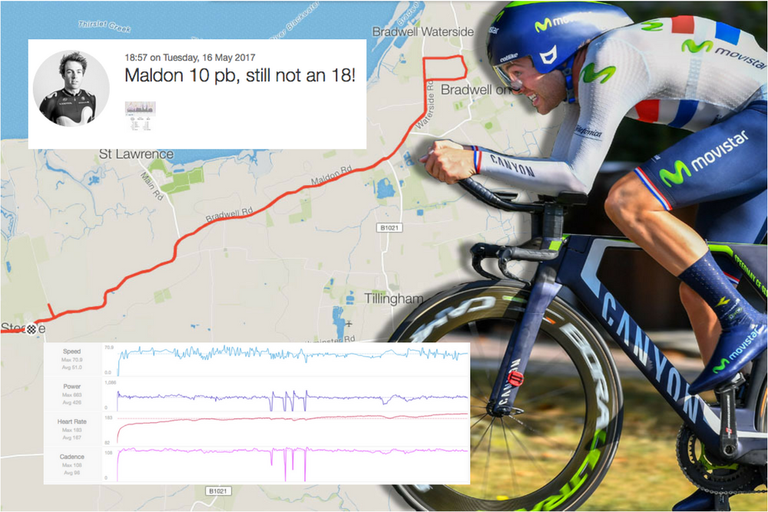 (Image credit: Watson/Strava)
If you turn up to your mid-week club 10, clock 26 minutes and look in at awe at the riders managing to go under 20 minutes, then think what it must be like for Maldon and District CC members when Alex Dowsett turns up
>>> Bradley Wiggins rocks up to his local 10mi time trial and smashed it
The five-time national champion is a regular on the Tuesday night time trial, turning up at the most recent event to clock 19-06 on the E21/10 in Essex, five seconds shy of his own course record.
Upon returning to race HQ, presumably over a cup of tea and slice of cake, Dowsett uploaded his ride to Strava, which included some pretty startling figures for us mere mortals.
>>> Read more: Our buyer's guide to the best time trial bikes
After an initial 10 second burst of around 650 watts, Dowsett settled into his rhythm, and over the next 10 miles averaged an astonishing 426 watts.
Watch: How to pace a long time trial
That included four more sprints of more than 600 watts as he accelerated out of corners at the mid-point of the course, pacing his effort perfectly as he finished with an average heart rate of 167bpm which slowly rose over the course of his ride.
Despite missing out on going under 19 minutes, Dowsett still managed to average more than 50kmh, winning the event by 3-46 over Matt Saunders (Team Vision Racing).
>>> Alex Dowsett to focus on the road for UCI Hour Record attempt
After missing out on selection for the Giro d'Italia, Dowsett is currently training for what he hopes will be his second Tour de France start come July, as well as a second shot at the Hour Record where power numbers like this should be enough to see him challenge Bradley Wiggins' record.
His next race will be the Vuelta a Castilla y Leon, which starts on May 19.