Bradley Wiggins aiming for fastest ever 10-mile time trial
Time trial world champion Sir Bradley Wiggins has his sights set on the 10-mile competition record as he builds up to the Hour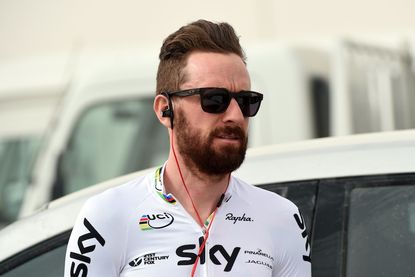 (Image credit: Watson)
Bradley Wiggins is targeting a sub 17-minute 10 at the upcoming City Road Club Open 10 mile time trial as part of his preparation for an attempt on the UCI Hour Record.
The world time trial champion will tackle the event, held on the V718 course near Hull on May 16, and has Alex Dowsett's competition record in his sights.
Dowsett set a time of 17-20 on May 31 last year at the Eastern Counties CA event, slicing 25 seconds off the previous record of 17-45 set by Michael Hutchinson in 2012.
"I hope [I can beat it], it's a good course for that," he said. "I think Hutchinson had the record on that course, and I think on the day it could be a 16-minute course. We'll see."
Wiggins believes he would be the first world champion to enter a CTT open event, adding that he understands previous world champion Chris Boardman (1994) rode only club events and David Millar (2003) rode no British time trials at all after being suspended for two years for use of EPO.
Amusingly, Wiggins is entered into the event for riders with a previous best time of over 22 minutes for 10 miles.
"The funny thing is the entry for that event was for riders that were 22 minutes and slower, to give people a chance to set a faster time," he said. "I haven't done a time in the last three years. So I got in, which was great! And fantastic for the other 80 riders, they can ride against the world champion. It's what it's all about."
Wiggins was speaking ahead of the three-day Tour de Yorkshire, where he will wear the number one dossard as he makes his debut for his new Wiggins team. He will tackle the Hour Record on June 7 in London.
"That's a fast course that one [near Hull], and it fits in well with the hour record," he added. "I always said it would be nice to come back and do a British time trial as world time trial champion.
"There's such a history of 10 mile time trialling in this country, it would be so nice to go there and do it [break the comp record].
"When I used to ride club 10s at home, people would go back to work on Monday morning and get asked what they did at the weekend.
"Well, there they can say they raced against a world champion and Tour de France winner. There are not many sports you can do that, you can't go up the park and have a kick around with Steven Gerrard."
Thank you for reading 10 articles this month* Join now for unlimited access
Enjoy your first month for just £1 / $1 / €1
*Read 5 free articles per month without a subscription
Join now for unlimited access
Try first month for just £1 / $1 / €1
Richard Abraham is an award-winning writer, based in New Zealand. He has reported from major sporting events including the Tour de France and Olympic Games, and is also a part-time travel guide who has delivered luxury cycle tours and events across Europe. In 2019 he was awarded Writer of the Year at the PPA Awards.