Alex Dowsett slices 25 seconds off previous 10-mile time trial record
British time trial round-up (May 31-June 1): News and results from around the UK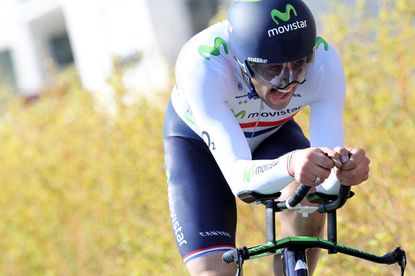 (Image credit: Etienne Garnier)
Alex Dowsett powered his way to a new 10-mile national competition record in Cambridgeshire on Saturday, winning the Eastern Counties CA event on the E2/10 in 17-20.
The Movistar ace slashed 25 seconds off Michael Hutchinson's previous record from 2012 – the biggest amount anyone has knocked off the old mark for 33 years.
Dowsett averaged 34.6153mph over the course near Six Mile Bottom, winning the event by more than two minutes from his nearest rival David McGaw (Cambridge CC) with 19-24, while Russell Kober (Hainault RC) took third, another two seconds back.
Haribo Beacon were crowned the National Team Time Trial Championships after winning the title race in Wales by the narrowest of margins.
Pete Williams, Steven Burke and Ashley Brown clocked 1-13-11 for the 35.6-mile course on the A40 near Abergavenny, and took the win by just one second from the Richardsons-Trek trio of Andrew Hastings, Dean Shannon and Rhys Howells.
VeloRefined Aerosmiths took third with Kevin Tye, Stephen Whitewick and Michael Barnes clocking 1-14-02, while the women's title went to the Pearl Izumi trio of Sarah Storey, Katie Archibald and Ciara Horne who clocked 1-16-57 to finish 11th fastest overall from 50 teams.
Elsewhere, there was a course record performance from National Time Trial Series champion Matt Bottrill (Drag2zero.com) who clocked 19-08 to win the Melton Olympic CC 10 at Seagrave in Leicestershire by almost a minute and a half from Adam Gascoigne (Pedal Power Loughborough) in 20-36, while Simon Mitchell (Lutterworth Cycle Centre) was third.
Border City Wheelers' junior Alex Foster broke the course record for the L259 at Hutton End in Cumbria. He clocked 57-10 to take victory from senior team-mate Richard Bickley by 16 seconds, while Lucy Coldwell (Velosport) was first female and third overall with 58-52.
Multiple national record holder Michael Hutchinson (In Gear-Quickvit) won the Yorkshire CF 10 in East Yorkshire by 19 seconds, clocking 18-33 for the fast V718 course at South Cave.
Scott Burns (Manchester Wheelers) was second with 18-52, while Michael Ellerton (Team Swift) was third with exactly 19 minutes.
Jo Rowsell (Wiggle Honda) was fastest female with 20-39, on a day where the headwind return leg appeared to change direction for the later riders.
Ferryhill Wheelers' Keith Murray scored a weekend double with victory in the Stockton Wheelers 10 on Saturday and the Cleveland Coureurs 25 on Sunday.
He clocked 20-30 to win the 10 at Sedgfield by six seconds from Paul Thirling (Stockton Wheelers), and he beat him again the following day, clocking 52-03 to win at Crathorne by 1-03.
Justyn Cannon (RAF CA) notched up two wins in one day, both over 10 miles. He won the Gloucester City CC 10 at Falfield on Saturday morning with 20-36, 27 seconds quicker than Billy Oliver (RST Sports).
And he then headed over to Witney in Oxfordshire for the Fairly United CT 10, which he won with 20-02, 22 seconds quicker than Henry Latimer (Catford CC).
And in Cheshire, Andy Wilkinson (Port Sunlight Wheelers) won the Dukinfield CC 25 – run over a shortened 24.5-mile course because of roadworks – with a time of 52-38. That was 1-32 quicker than runner-up Simon Bridge (Manchester Wheelers), who also won the team prize alongside Robert Hayes and Antony Blair.
Wilkinson then went on to win Sunday's Alf Jones Memorial 25 at Prees in Shropshire, clocking 51-58 for the Chester RC event, almost five minutes quicker than runner-up Arthur Winstanley (Liverpool Phoenix CC).
Thank you for reading 20 articles this month* Join now for unlimited access
Enjoy your first month for just £1 / $1 / €1
*Read 5 free articles per month without a subscription
Join now for unlimited access
Try first month for just £1 / $1 / €1