Bradley Wiggins vs Andy Birdsall: Wiggo's minute man prepares for time trial of his life
Tickhill Velo rider Andy Birdsall makes his final preparations before taking on time trial world champion Sir Bradley Wiggins at this Saturday's City RC 10-mile time trial near Hull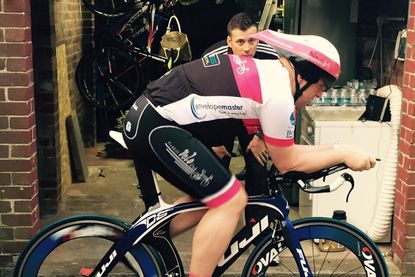 Tickhill Velo club rider Andy Birdsall is making the last minute preparations for the time trial of his life this weekend where he lines up as the minute man for Sir Bradley Wiggins at the City RC 10-mile time trial on Saturday.
Birdsall, a 43 year-old sales representative for an electronics company by day, has borrowed a friend's time trial bike and underwent a bike fitting session with Andy Bishop at his home last night in advance of his ride on the V718 course near Hull.
"It's like the Willy Wonka golden ticket of cycling," Birdsall told Cycling Weekly. "Someone said to me, 'you couldn't buy that ticket.'
"It's not worth a penny in one way, but it's also worth its weight in gold. And I'll get a results sheet with Wiggins' name on it."
While Wiggins has been completing 200km rides in Majorca, Birdsall will take his new bike out for its first spin for an hour or two this evening near his home in Rotherham. In fact, when he first found out he would be up against the time trial world champion, Birdsall was tucking into a full English breakfast.
"I got the startsheet emailed through and I was scrolling through the rider list. I picked up my name on the second page, saw who my minute man was... I thought, 'well I don't know him.' Then I thought, 'oh I wonder who's behind me,' and then 'oh my god, what are the chances of that happening?'"
Birdsall and his club, Tickhill Velo, have launched a Twitter and Facebook competition in relation to the upcoming time trial in order to promote their club and event, the YESSS Tickhill Grand Prix. To win VIP tickets to the event in September, plus a bike fit at Giant Sheffield (and some other goodies), all you have to do is guess how long Birdsall will last before Wiggins overtakes him.
"People are asking if I'm going to ride for a fast 10 or a fast pass," Birdsall explained. "Should I put the hammer down for a few minutes before he catches me, and prolong the inevitable?
"I think I'll just ride a normal 10, I understand it's a fast course so I'll ride my normal pace. You could ride a really fast couple of miles but then end up with a really bad time. I'll always remember what time I did in the event, so I'm hoping to ride it like I normally would."
Birdsall normally competes on his road bike with clip on aero bars and admits that he's not entirely sure of his personal best over 10 miles - his open event record is 26-05 but he recalls going faster in some club events.
He also added that his hopes of buying his own time trial bike went down the drain when he recently spent £10,000 on a new bathroom, although last year he did get his aero helmet custom painted to match his club kit.
"I keep saying to my partner Emma that the bathroom's lovely but all I can see is a bike," he laughed. "Those tiles are a nice set of wheels, you know."
He aims to film his ride with two GoPro cameras mounted on his bike, to capture for posterity the moment the world champion flies past in the rainbow bands with, he estimates, a relative speed of around 10 mph quicker.
"I've roughly calculated when he [Wiggins] might pass me, but I shan't be looking over my shoulder, I'll probably just here the whoosh of the disc wheel," he added. "I haven't thought what I'm going to say to him, if I have enough breath. I'll probably be gasping for air!"
Thank you for reading 20 articles this month* Join now for unlimited access
Enjoy your first month for just £1 / $1 / €1
*Read 5 free articles per month without a subscription
Join now for unlimited access
Try first month for just £1 / $1 / €1