Bradley Wiggins's 10 mile record attempt: everything you need to know
This weekend Sir Bradley Wiggins will try and take back his ten mile comp record. But what is this event all about, and why is he doing it?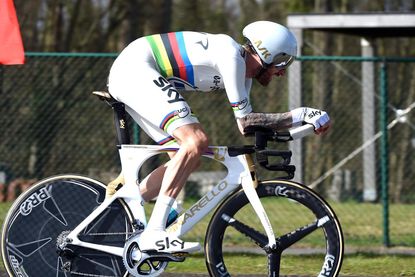 (Image credit: Watson)
This Saturday will see Sir Bradley Wiggins line up in his world champions skin suit at the City Road Club open ten mile time trial alongside weekend warriors. It's a dream come true for the other riders in the field as they will forever more be able to say they raced against Bradley Wiggins. This unique, but very popular, branch of British cycle racing isn't well known outside of the sport itself so here we explain a little more.
What is the 10m TT record?
The National Competition Record for 10 miles on a bicycle - also known as the 'comp record' - is given to the rider who has covered the distance in the fastest time in open competition on a course recognised by the CTT - Cycling Time Trials (formerly the RTTC).
Why is Bradley Wiggins doing this?
Wiggins is a fan of British cycling culture - he got in to the sport via the traditional British way - and he knows that holding the ten mile record will, for some people, be more endearing than winning the Tour de France. It's a little bit of cycling history. He has also held it before when he set the record in 2006, riding for Cofidis, riding 17 minutes 58 seconds on the Levens course in Cumbria. With his Hour Record form, this is the perfect opportunity for him to test his form and take the record. Perhaps even put it on the shelf for years to come.
There's no doubt he's serious about getting the record either as he is also entered in to the Team Swift event on the same course the following Wednesday. So if bad weather strikes at the weekend he'll get a second crack at the record.
What's the current record?
Alex Dowsett currently holds the ten mile comp record with 17 minutes 20 seconds, set on a course in Cambridgeshire last year. He took a massive 25 seconds off of Michael Hutchinson's record of 17:45, set on the V718 in 2012. (see below for the list of record holders).
What was Chris Boardman's best time?
Boardman has never held the ten record, although he did once ride a 17:54 in a club event which, unfortunately for him, didn't qualify him for the national comp record.
What's this V718?
That is the course code for this ten mile course near Hull. The CTT use course codes as a throw back to it's history when racing was banned on the open road.
Due to this pre-war ban the cycling community came up with something of a secret society which saw them racing individually over set distances, early in the morning, on courses only known by people in the sport by their code names. Entrants would often wear plain black clothing to avoid raising suspicion. The idea was that if you were stopped you could simply say you were riding down that stretch of road. "Racing? Not me officer!"
As for this specific code, Michael Hutchinson explains in this week's Cycling Weekly magazine: "V means it's in Yorkshire, the '7' means it's in the Hull area, the '1' means it's a 10-mile course. The '8' could mean anything, but serves mostly to distinguish this course from other 10-mile courses in the area.
How much will he win if he breaks the record?
Precisely zero pounds and zero pence. There may be a small cash prize if he wins the event itself (£25 - £40 perhaps) but for setting the record you get a certificate from the CTT. Alex Dowsett tweeted a picture of his after receiving it through the post this April.
Will the roads be closed?
No, CTT events are held on the open road - often busy dual-carraigeways - they always have been. In fact, the recognised fast courses are often on the busiest roads as the slipstream affect of cars and lorries passing by helps with aerodynamics.
Why is this course so fast?
Apart from the traffic this course is perfect for riding at speed. As multiple TT champ and record holder Hutchinson again explains. "It's a simple out and back route with just one turn at the halfway point. The road surface is good and it's as flat a road as you'll find in the UK. The route runs along a slight curve throughout the course which can help if there are headwinds as it means there's never a long-term headwind."
What time is Wiggins riding?
Wiggins sets off at 4:30pm, although if weather on the day is bad he may choose not to ride. He needs good conditions if he's going to set the record.

Will he be in his world champs skinsuit?
We suspect he will, however technically he probably shouldn't. His world title is a UCI title, and the CTT is not affiliated to, or run their events under, UCI regulations. The CTT won't mind what he wears while the UCI is hardly likely to kick-up a fuss. Even if they are sticklers for their own rules.
Bradley Wiggins gives candid interview on BBC's Desert Island Discs, where he talks about his upbringing and experiences as an
How fast will he have to ride?
If Wiggins wants to be the first person in history to break the 17 minute barrier he'll have to ride at 34.6mph. Get your bike out, find a flat stretch of road and see if you can hit that speed. If you can, then see how long you can sustain it for.
Will it be on Sky?
Er.... no. It won't. This is a small, Saturday afternoon event which may be a little surprised by the attention it's currently getting. In fact, Wiggins has entered one of two events that day. His event is, believe it or not, specifically aimed at slower riders.
What?!
To enter a CTT event, especially a popular (AKA fast) one, you need to have a qualifying time. The organiser is then able to select the fastest riders for their event. This event on Saturday afternoon is designed to counter the closed nature of the traditional entry system by favouring slower riders. As Wiggins hasn't ridden a ten for several years - he's been busy winning the Tour de France and the like - he doesn't have a qualifying time. Therefore he's entered the event aimed at beginners.
Can I go watch?
You can, but remember this event is run on dual-carraigeways, so there is nowhere to stop and watch. The organisers have suggested people watch from bridges that cross the course, rather than on the course itself. BBC Five Live will also have some coverage of the event. Follow our Twitter feed @cyclingweekly for updates.
Men's 10 mile competition record
2014 Alex Dowsett (Movistar) 17:20
2012 Michael Hutchinson (In-Gear Quickvit Trainsharp R.T.) 17:45
2010 Michael Hutchinson (In-Gear Quickvit R.T.) 17:57
2006 Bradley Wiggins OBE Cofidis 17:58
2001 Stuart Dangerfield Camel Valley C. & T.C. 18:19
1993 Graeme Obree Leo Road Club 18:27
1992 Matt Illingworth G.S. Strada 18:34
1988 Colin Sturgess Team haverhill 18:48
1981 Dave Lloyd Manchester Wheelers 19:11
1981 Martin Pyne CC Breckland 19:41
1980 Sean Yates 34th Nomads 19:44
Source: 2015 CTT Handbook
Thank you for reading 20 articles this month* Join now for unlimited access
Enjoy your first month for just £1 / $1 / €1
*Read 5 free articles per month without a subscription
Join now for unlimited access
Try first month for just £1 / $1 / €1