Bradley Wiggins: 'I was Olympic champion and couldn't pay the mortgage'
Bradley Wiggins gives candid interview on BBC's Desert Island Discs, where he talks about his upbringing and experiences as an Olympic and Tour de France champion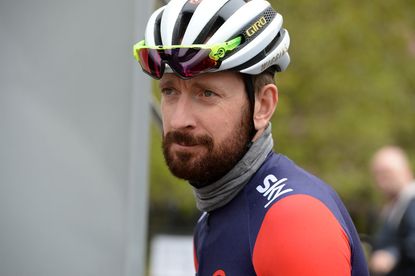 Sir Bradley Wiggins was the guest on the BBC Radio 4's Desert Island Discs on Sunday, and as well as selecting the music that he would take with him if he found himself marooned and alone on a remote island, he gave a candid interview with host Kirsty Young.
Wiggins talked about his life as a child, and various parts of his highly successful career on the track and road that has also been peppered with low moments. He admitted during the interview that he felt lost after his success at the Athens 2004 Olympic Games, where he won individual pursuit gold and silver and bronze medals in the team pursuit and Madison.
"At that age, when you're a kid, you just want fame and money," Wiggins told Young. "You think that people are going to knock the door down, writing cheques out for a couple of million to you, and that didn't happen, and we still couldn't pay the mortgage."
"I had this incredible guilt that I was Olympic champion and that I wasn't supporting the family. So I got a slight bit of depression about the whole thing really. It didn't live up to the expectation of what I assumed winning Olympic gold was going to be about."
>>> Brailsford confident Bradley Wiggins will claim Hour Record
Wiggins said that the birth of his son focussed his attention on providing for his family, and also of his feeling towards his own father, Gary. Wiggins said that his father, an Australian track cyclist who had moved to Europe to find success, was known as 'Doc' for supplying other riders with performance-enhancing drugs, notably amphetamines.
"He did a bit of everything. In those days it was amphetamines and speed. He was a user and used to sell it as well.
"My mum's got some great stories about the people that used to come through our apartment door when I was a baby to buy stuff off my dad, who are now banging the drum saying 'Oh no, I didn't do anything', which is quite funny."
Wiggins also confirmed the story that his father used his nappies to smuggle drugs through customs when he was a baby. His father left Wiggins and his mother when he was very young, but evidently left a mark. Wiggins' mother moved back in with her parents, and provided financial and emotional support to the young cyclist as he started out in his career.
Wiggins gave a straight 'no' when asked by Young whether he's ever been tempted to take drugs during his cycling career.
Throughout the interview, well-known music fan Wiggins picked out the eight songs he would take to a desert island:
'The Queen is Dead' The Smiths
'I am the Resurrection' The Stone Roses
'That's What I Like' Chas and Dave
'Reasons to be Cheerful Part Three' Ian Dury and the Blockheads
'Rock n Roll Star' Oasis
'Sympathy for the Devil' The Rolling Stones
'Cosmic Dancer' T Rex
'Sound and Vision' David Bowie
Wiggins' next target is an attempt on the Hour Record in June.
You can listen to the Desert Island Discs with Bradley Wiggins on BBC's iPlayer.
Thank you for reading 20 articles this month* Join now for unlimited access
Enjoy your first month for just £1 / $1 / €1
*Read 5 free articles per month without a subscription
Join now for unlimited access
Try first month for just £1 / $1 / €1