Tobyn Horton wins Sheffrec CC Spring Road Race
British road race round-up (Apr 12-13): News and results from around the UK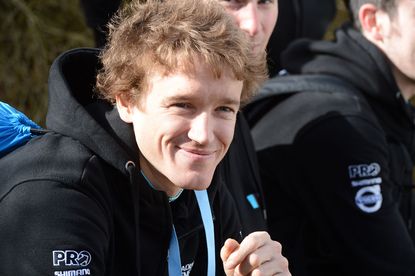 (Image credit: Andy Jones)
While Alex Peters was winning the prestigious Tour of the Reservoir for the Madison-Genesis team, his colleague Tobyn Horton also bagged a win in the Sheffrec CC Spring Road Race in South Yorkshire on Sunday.
An attack at the bell brought victory for Horton, who was part of a 13-man break which peeled away from the main bunch on the fourth lap and with winds battering the riders, this was whittled down to a leading group of six.
NFTO's Dean Downing took the reins at the front of the race, out on his own for two laps in the closing stages of the contest.
But the final lap saw the Rotherham rider caught by his rivals and Horton used his momentum to charge to the front.
The Guernsey man managed to open a small gap on Downing and Velosure-Giordana's Tom Bustard and crossed the line unopposed. He was five seconds ahead of a sprint for second which Downing won.
Lewis Atkins made it three wins for the year as he took first place in the Westerley Spring Crits at the Hillingdon Circuit on Saturday.
Liam Stones started a breakaway and the leading pack was eventually whittled down to Stones, Atkins and Rob Sharland. Atkins made a break for the line and although Stones came back at him, he couldn't pass him and the Pedal Heaven-Colbornes rider pinched it by half a wheel.
Stones quickly put that disappointment behind him as he put in a strong ride to win the Autostrasse Porsche Road Race the following day.
The Team Raleigh man was part of an eight-man break that worked hard to build an unassailable gap. He went on to lose the race out in style, powering away up the final climb to claim the victory.
Army CU 27-year-old Mike Cripps won the James Atherton Road Race run over a 60 mile course in Owslebury on Sunday.
And in the Keith Carter Memorial Road race promoted by Hull Thursday, Out of the Saddle's Marc Mclean took first place, beating Melvin Blackwood on the final climb.
VC Revolution rider Andrew Holmes managed to keep Cambridge CC's Edward Farnell and Fenland Clarion's David Langlands at bay as he emerged victorious from the competitive Fleche Welwyn race in Bedfordshire.
British time trial round-up (April 12-13): News and results from around the UK
Thank you for reading 20 articles this month* Join now for unlimited access
Enjoy your first month for just £1 / $1 / €1
*Read 5 free articles per month without a subscription
Join now for unlimited access
Try first month for just £1 / $1 / €1