Velosure Starley Primal announces men and women's squads for 2015
UK elite team reveals lineups for both of its squads for the 2015 season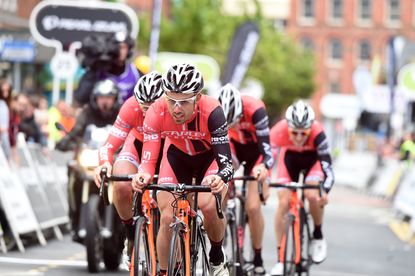 UK elite team Velosure Starley Primal has today announced its lineups for both its men and women's teams going into the 2015 season.
The men's team have made eight new signings in total, building a strong international roster for the new season.
Signings include Spaniard Adrià Moreno Sala and Frenchman Marius Cordier, along with Team Sky rider Josh Edmondson's older brother Nathan, who was racing with the Velosure - Giordana Racing Team until the end of this season.
2012 National Hill Climb champion Jack Pullar will continue with the team for next year, as will teammate David Lines.
Velosure Starley Primal's Team Manager, James Smith said on the signings: "We're really excited about the team for 2015 – we've got a great mix of British and international talent who are all eager to excel and be at the forefront of events in the racing calendar. The new riders will make us a force to be reckoned with across all race disciplines."
Meanwhile, the women's team have added six new riders to their lineup for 2015, with squad averaging an age of just 21.
While Eileen Roe, who won the National Circuit Race Championships in 2014, will not continue with the team having joined Wiggle-Honda, support rider Tanya Griffths will continue with the team, having recorded some good results last year including the Tickhill GP in September.
"This year our women's team is a mixture of youth and experience," said Smith on the women's squad.
"We've invested in a number of younger riders to give them the opportunity to develop their skills in a professional set-up, however we've also got some more experienced riders who'll be able to give guidance and share their racing knowledge.
"We look forward to continuing to support women's cycling by enabling our female riders to progress in a supportive and structured environment."
Velosure Starley Primal Men's Team 2015
Josh Burns
Thomas Bustard
Marcus Cordier
James Davey
Nathan Edmondson
James Gullen
Davie Lines
Adria Moreno-Sala
Joseph Petrowski
Jack Pullar
Tom Smith
Velosure Starley Primal Women's Team 2015
Emily Attfield
Sian Botteley
Laura Cheesman
Josephine Gilbert
Tanya Griffiths
Gaby Leveridge
Pia De Quint
Thank you for reading 20 articles this month* Join now for unlimited access
Enjoy your first month for just £1 / $1 / €1
*Read 5 free articles per month without a subscription
Join now for unlimited access
Try first month for just £1 / $1 / €1