British Cycling reveals dates for the 2015 National Road Series
Cycling national governing body confirms details for the men's Elite Road Series, Elite Circuit Series and the Women's National Road Series.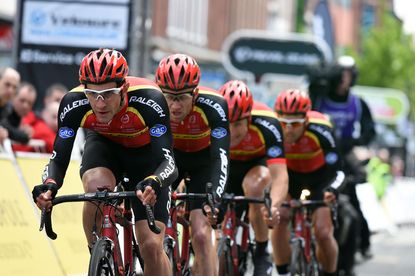 British Cycling revealed on Thursday the full details of all its National Road Series events for the 2015 season.
Yanto Barker (Team Raleigh) took the men's Elite Road Series title in 2014, and will be looking to defend his crown next year, with the series beginning in early April with the Lancashire GP in Chorley, ending at the Leicester Castle Classic Kermesse in mid-August.
Likewise, Nicola Juniper (Team Echelon - Rotor) will be looking to defend the Women's National Road Series title which begins at the Tour of the Reservoir in Edmundbyers in April and ends at the Ryedale GP, Ampleforth in July.
The 2014 National Road Series events attracted a TV audience of around 400,000 on British Eurosport, according to BC, while an increase in views on its website and Youtube channel demonstrated a rise in popularity for the domestic series last year.
"The appetite for top-level domestic racing has rarely been higher in this country" said British Cycling's director of cycle sport and membership, Jonny Clay "and it is with great excitement that we confirm the dates for the 2015 British Cycling National Road Series."
"The 2015 season will again be broadcast on various platforms and we're confident that the improvements we're making to the domestic road calendar will continue to increase competition and conditions for riders, while also entertaining new and existing fans of the sport," he added.
The Elite Circuit Series also returns for 2015, and will see the Stafford Grand Prix, which hasn't featured in the series since 2012. The circuit series will run weekly through July and August, moving across the country.
Your find full details on all the events and all the dates by visiting the British Cycling website (opens in new tab).
Starley Primal Pro Cycling, Catford CC Equipe/Banks, Haribo–Beacon and Wheelbase Altura MGD are first four teams to receive British Cycling
Thank you for reading 5 articles this month* Join now for unlimited access
Enjoy your first month for just £1 / $1 / €1
*Read 5 free articles per month without a subscription
Join now for unlimited access
Try first month for just £1 / $1 / €1