Yanto Barker aiming to sew up Elite Road Series win this weekend
Only Marcin Bialoblocki can prevent Yanto Barker from taking British Cycling Elite Road Series title during Sunday's Ipswich and Coastal Grand Prix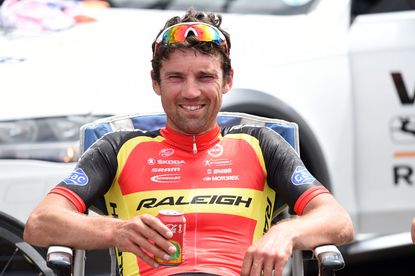 Yanto Barker has to finish in the lead group at the Ipswich and Coastal Grand Prix on Sunday (August 31) to be crowned the overall winner of this year's British Cycling Elite Road Series.
Team Raleigh's Barker leads the Series by 21 points from Velosure-Giordana's Marcin Bialoblocki ahead of this weekend's race.
Only Polish rider and former leader Bialoblocki can prevent Barker from winning the Series, but Alex Peters (Madison Genesis) and Russell Downing (NFTO) are fighting it out for third place.
Downing leads the GP series from Velosure's Matt Cronshaw so a high-placed finish could ensure him that title and a podium spot in the Series.
The team event is still open to manoeuvre: Raleigh, NFTO, Madison-Genesis and Velosure-Giordana are separated by just 10 points going into the final round.
The 200km race begins in the centre of Ipswich before heading east to Woodbridge and down a coastal circuit through Alderton and Hollesley. The riders will ride the route five times.
The finale takes place next to Ipswich's Neptune Marina. Racing starts at 10.30am.
Penultimate round of the 2014 British Cycling Elite Road Series takes place in Leicester this Sunday, August 17
Yanto Barker catches lone escapee Tom Moses to take Lincoln Grand Prix victory
Thank you for reading 5 articles this month* Join now for unlimited access
Enjoy your first month for just £1 / $1 / €1
*Read 5 free articles per month without a subscription
Join now for unlimited access
Try first month for just £1 / $1 / €1