British sprinters off the pace on day one
The team sprint competition is a perennial problem for the British camp, and they're no closer to solving it 18 months out from the 2016 Rio Olympics as both the men's and women's team qualify in eighth place.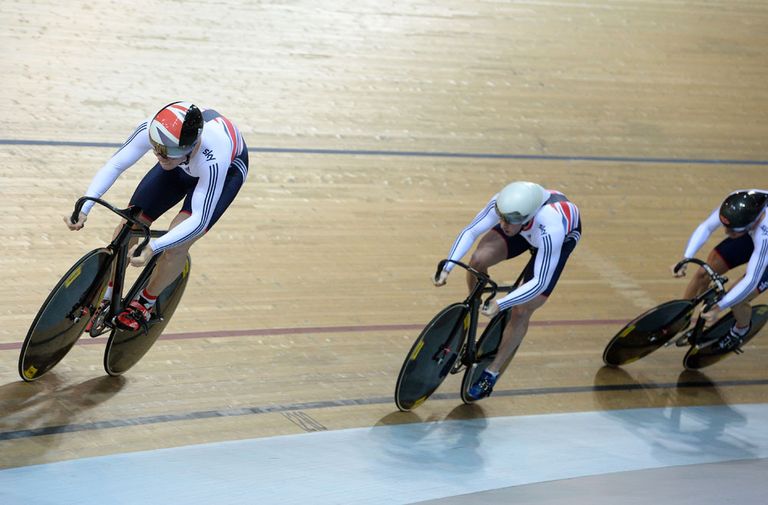 Britain's track sprinters face a mammoth task if they are to raise their game to medal standards in the team sprint events in time for the 2016 Rio Olympics. On the opening day of competition in Saint Quentin en Yvelines near Paris, both GB's mens and womens team sprint squads qualified down in eighth position, well outside the medal ride-off positions.
This is familiary territory for the men's squad which hasn't medalled in this event since taking silver in Apeldoorn in 2011. The last time they won the world title was 2005. They are however reigning Olympic champions from London 2012 having also won the Olympic title in Beijing 2008. Each time dumbfounding their rivals by turning their performances around at the very last minute to not only win, but doing so in world record times.
Only a fool would want to write them off with that track record, but the challenge now facing them seems beyond even the coaching team at British Cycling.
In Paris today both Philip Hindes and Jason Kenny performed relatively well, posting the seventh and third fastest splits respectively, but their speed left Callum Skinner trailling in their wake.
The 22-year-old Scot was unable to latch on to the back of Jason Kenny's wheel who himself was struggling to keep up with Hindes. Having to ride the first 500 metres without much of a slipstream to hide in, Skinner unsurprisingly tied up on his final lap.
"It's a team event and our job is to get [Skinner] round three laps as quick as possible. Today I don't feel we got the best out of ourselves. We all have to take responsibility for that." kenny said after the event. "Phil tried a slightly bigger gear to try to take the edge off the start, I left a bigger gap to Phil to try to bring Callum on, but it wasn't enough unfortunately."
"It's really difficult. Our event's flat out. We don't pace it, we can't plan it, we just go flat out."
GB sprint coach Jan Van Eijden said: "We've got what we've got and we'll have to work with these guys. Callum doing a 13.8 [lap] is a fantastic time. I wouldn't say it's a concern but we have work to do, we've just got to get [Skinner] off the line. We're confident we'll get it right for Rio."
>>>Track worlds day one round-up
The women's duo of Victoria Williamson and Jess Varnish also qualified in eighth place. As yet neither of the pair has committed fully to the starting position and therefore structured their training according. Again, Van Eijden believed they had the time to get this right, but with China setting a new world record, Russia now challenging for gold and Anna Meares getting back up to speed, this may be a challenge too far.
Thank you for reading 5 articles this month* Join now for unlimited access
Enjoy your first month for just £1 / $1 / €1
*Read 5 free articles per month without a subscription
Join now for unlimited access
Try first month for just £1 / $1 / €1
Editor of Cycling Weekly magazine, Simon has been working at the title since 2001. He fell in love with cycling when channel surfing in 1989 and happening across the greatest ever edition of the Tour de France. He's been a Greg LeMond fan ever since. He started racing in 1995 when moving to university in North Wales gave him more time to train and some amazing roads to train on. He raced domestically for several years, riding everything from Surrey leagues to time trials, track and even a few Premier Calendars. In 2000 he spent one season racing in Belgium with the Kingsnorth International Wheelers.
Since working for Cycling Weekly he has written product reviews, fitness features, pro interviews, race coverage and news. He has covered the Tour de France more times than he can remember along with two Olympic Games and many other international and UK domestic races. He can still be seen at his club's evening races through the summer but he still hasn't completed the CW5000 challenge!
Simon is currently riding
Road bike: Pinarello K8S with Shimano Dura Ace
TT bike: Specialized Venge road bike with FFWD wheels and Easton Attack TT bars
Gravel bike: N/A
Training bike: Rourke custom hand made with Reynolds 853 steel