Check out six of the key Tour of Flanders climbs on Strava
Eighteen climbs make up the modern Tour of Flanders, each of them with their own characteristics. Here are six of the key ascents of the famous Classic as Strava segments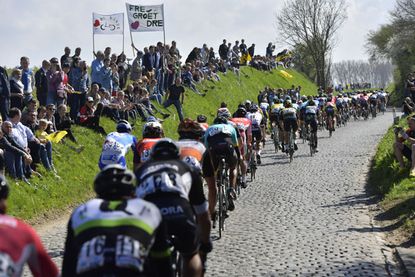 (Image credit: Yuzuru Sunada)
Paterberg
Length: 400m
Gradient: 12 per cent (avg), 20 per cent (max)
KOM: Dimonique Mayho 48sec
Riders ascend the Paterberg twice on the 267km route: once with 53km to go and again as the last climb of the day, 14km before the finish.
With 11 climbs already in the legs when the riders first go up it the 20 per cent gradient is tough, but in the heat of the final kilometres it becomes even harder.
Taaienberg
Length: 800m
Gradient: Seven per cent (avg), 18 per cent
KOM: Daniel Oss 1-12
The Taaienberg is by no means the longest climb on the route, but with a gradient of 18 per cent in places and coming 38km from the finish it's a prime place to make an attack.
>>> Tour of Flanders 2018 preview
Kruisberg
Length: 1,825m
Gradient: Five per cent (avg), nine per cent (max)
KOM: Daniel Lloyd 4-03
What the Kruisberg lacks in steepness it makes up for in length. At over 1,800m long the climb takes over four minutes at a crucial point in the race. With 27km to go to the finish the action has more than heated up by that point.
Koppenberg
Length: 600m
Gradient: 13 per cent (avg), 22 per cent (max)
KOM: Cameron Bayly 1-39
When it comes to cobbled climbs, few can compare to the Koppenberg for difficulty. Again, it's not massively long, but with gradients of up to 22 per cent it's an incredibly challenging climb, even for the professionals.
There's only one ascent of the Koppenberg in the Tour of Flanders, but it comes with 46km to go, so no-one can afford to take it easy.
>>> The Koppenberg and the defining cobbles, bergs and climbs of the Belgian Classics
Oude Kwaremont
Length: 2,500m
Gradient: Four per cent (avg), 12 per cent (max)
KOM: Niki Terpstra 4-55
The Oude Kwaremont may be incredibly long, but thankfully it's not hugely steep. When you've climbed it three times, though, you may be glad to see the back of it.
Sitting at 2,500m long, it is the second and also the penultimate climb in the race, with riders also taking it in at the 56km to go mark for good measure.
>>> Tour of Flanders live TV guide
Kanarieberg
Length: 1,000m
Gradient: Eight per cent (avg), 14 per cent (max)
KOM: Dries Devenyns 2-07
Unlike the other climbs on this list, the Kanarieberg is slightly kinder to the riders in the fact that it's not cobbled. With the standard of Belgian asphalt, though, that might not make that much difference, but it's slightly less bone jarring.
At 1,000m long, the climb is the final climb before the brutal final section. It comes with 72km to go, but all the hills after it are pretty unappealing and are all cobbled.
Thank you for reading 20 articles this month* Join now for unlimited access
Enjoy your first month for just £1 / $1 / €1
*Read 5 free articles per month without a subscription
Join now for unlimited access
Try first month for just £1 / $1 / €1