Chris Froome reveals the extraordinary nocturnal training regime that he tried on his way to success
You won't find this in any training manuals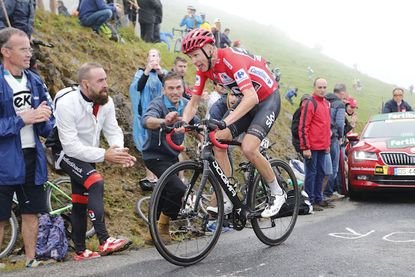 (Image credit: Yuzuru Sunada)
If you've ever wondered what it takes to become a four-time Tour de France winner, then Chris Froome has revealed some of the outrageous training techniques that he's been willing to try during his career... including ignoring things like day and night.
Writing in Shortlist magazine, Froome revealed how he had to learn to moderate his drive for success in order to become a better rider, giving one extraordinary example.
>>> Crunching the numbers: How does Chris Froome compare with cycling's greats?
"I once convinced myself that just training once a day was stupid," Froome wrote. "So for a week all I did was train, eat, sleep, train, eat, sleep, and ignored things like the changing of the day, down-time and so on.
"I'd get back at 2pm, eat, sleep, then wake up at 8pm and go out for another six-hour ride, then repeat the cycle. I was riding all through the night and sleeping during daylight, like a vampire who ignored the world around him.
"I only lasted four or five days, then I crashed and burned. It wasn't healthy."
Despite this idea not paying off, Froome writes that he has no regrets about trying different things with his training, and if he hadn't experimented in this way then he might not be where he is today.
"All the mistakes I made were part of the process I had to go through to get to this point," Froome continued.
"I had to do some stupid things and try some ridiculous, outside-the-box ideas in my training, my cycling and my lifestyle to get to where I am, but every mistake was a learning experience."
>>> Could Chris Froome rider the 2018 Tour de Yorkshire? Race organisers aim to attract Tour de France star
The Team Sky rider also talked about how he has found different motivation as his career has progressed, now finding a drive in his quest to join some of cycling's great names, and describing the feeling of winning the Tour de France for a first time and for a fourth time as like "eating different meals you love".
He continued: "The stakes get higher. It's hard to describe how the motivation increases if you do well.
"You've got what you always wanted, but your ambitions change. You start to compete against the history of the sport, as well as against your rivals around you – but there's a constant gratitude to it as well."
Thank you for reading 20 articles this month* Join now for unlimited access
Enjoy your first month for just £1 / $1 / €1
*Read 5 free articles per month without a subscription
Join now for unlimited access
Try first month for just £1 / $1 / €1