Crunching the numbers: How does Chris Froome compare with cycling's greats?
How does Chris Froome compare with cycling's greats after his most successful season yet?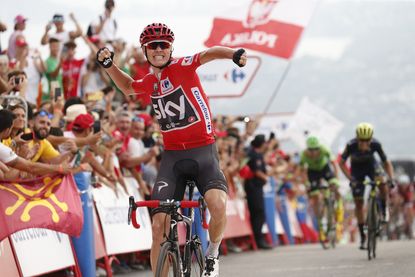 (Image credit: Yuzuru Sunada)
There was a neat symmetry to the press conferences that bookended Chris Froome's victory in the Vuelta a España.
In the dusty, sun-baked arena of Nîmes' amphitheatre, Froome was asked to comment on Eddy Merckx's assertion that the Briton could not be considered one of the greatest riders of all time because he has never been in the hunt for a one-day Classic, let alone triumphed in one of them.
Three weeks later, having just clinched the title on the summit of the Alto de l'Angliru, Froome was asked to respond to Merckx's further assertion that he is not an exceptional rider.
>>> Who is the greatest Grand Tour rider ever?
If there is one thing that we do know about the Sky leader, it is that he is never likely to take the bait when offered the chance to bite back at one of the sport's legends. He is too polite, too aware that there is nothing to be gained from stoking a spat with cycling's greatest-ever rider. As he always does, Froome dead-batted the polemic.
"Of course, everyone has their own opinion, but for me this is as good as it gets," he said.
"In the modern era of cycling, to win two Grand Tours back- to-back is difficult. There's a reason that the Tour-Vuelta double hasn't been done before. I couldn't be happier."
In fairness to Merckx, in his interview with Het Laatste Nieuws in which he criticised Froome's failure to secure a single victory prior to this year's Tour and asserted that he doesn't appreciate the Briton's focus on the Grand Tours to the complete exclusion of any interest at all in the Classics, the legendary Belgian did acknowledge that cycling is not the same now as it was in the late 1960s and early 1970s when he was in his pomp.
"Cycling has become a different sport. You can't compare Froome with us. [Bernard] Hinault, [Miguel] Indurain, [Greg] LeMond and I won other races," Merckx explained.
"I won the Giro d'Italia five times and Milan-San Remo seven times. If Froome still wants to win these events, he'll have to ride for a few more years yet."
There is no likelihood that Froome will suddenly discover a passion for the Classics. Yet, Froome is by no means the first multiple Grand Tour winner who has a dismal record in the sport's greatest one-day races.
It is 24 years since Tony Rominger became the last rider to win multiple Grand Tours and Classics, his second victory in the 1993 Vuelta sitting alongside two successes in the Tour of Lombardy.
Indurain (in spite of Merckx's assertion!), Alberto Contador, Vincenzo Nibali and Nairo Quintana have mustered just a single victory in a Monument between them.
In addition, the multiple Classics winners who have won a Grand Tour, such as Alejandro Valverde, have only had a single success in a three-week race. In other words, specialisation is nothing new.
That being the case, how does Froome's Tour-Vuelta double and his haul of five Grand Tour wins stack up against the achievements of cycling's best stage race performers?
In simple numerical terms, five Grand Tour wins moves him up to seventh in the all-time list, level with Italian icons Alfredo Binda, Gino Bartali and Felice Gimondi. Merckx, naturally, heads the ranking with 11 Grand Tour victories, one ahead of Hinault, three ahead of Jacques Anquetil and four ahead of Contador, Indurain and Fausto Coppi.
Changing parcours
In assessing Froome, though, it is perhaps more useful to look at how the Grand Tours have changed since Merckx's heyday, as this illustrates why leading riders have narrowed their focus.
It may seem incongruous in an era when almost every elite-level sponsor sets its sights on securing a Tour place, either via entry into the WorldTour or thanks to a wildcard, but when the Tour organisers switched back from national teams to trade teams in 1969, only 13 10-rider teams lined up in the race.
With 70 fewer riders than nowadays, the bunch wasn't as nervous and the racing more restrained. Stages tended to start more slowly, with the peloton often dawdling for the first two hours of the day. While just as physically demanding as the modern-day race, the need for absolute mental focus from start to finish every day for three weeks was less.
The route looked very different too. The 1969 edition featured five time trials (adding up to 91km against the clock) and just two summit finishes, which suited Merckx's strengths perfectly. While the number of summit finishes did increase over the following two decades, the number of time trial kilometres rose even more significantly.
In 1978, when Hinault picked up Merckx's baton as the peloton's most dominant force, he led home a race that featured a mere 11 teams and included a staggering 188km of time trialling, plus a mammoth 153km team time trial.
Hinault and other TT specialists knew they could rely on gaining significant ground on the specialist climbers if they could defend their position in the mountains.
By the time the Frenchman completed his Tour hand in 1985, there were, for the first time, more teams trying to enter the Tour than places available, with 18 squads on the start line. But the route still included 159km of individual time trialling and a team test that was almost half as long.
Since 1988, though, the make-up of the Tour has changed considerably.
That year's edition, won by Pedro Delgado, was 1,000 kilometres shorter than the previous edition where the Spaniard lost out to Stephen Roche.
Yet, for most of the next two decades the organisers stuck to a format that made for predictable and often dull viewing – a prologue to start, a week of flat stages where the sprinters made hay and the GC riders sat in the pack, a long time trial, then a foray into the high mountains, with another long time trial on the penultimate stage.
Froome's Grand Tours in numbers
1 The first rider to win the Tour and Vuelta back to back
2 Stage wins at the Tour and Vuelta in 2017
5 GC wins, four Tours and 1 Vuelta
9 Podium finishes
19 Years since Marco Pantani last won back-to-back Grand Tours
34 Days as a Grand Tour race leader this year, eclipsing Eddy Merckx's record of 33
49 Days between in his wins in Paris
and Madrid
73 Categorised passes he crossed in the Tour and Vuelta
The formula was meat and drink for Miguel Indurain, who never won a mountain stage during his five-year reign in the early 1990s. With up to 130km of time trialling in which he could smash his rivals' hopes, he didn't need to. It was much the same story at the Giro. With more than 100km of time trialling, it was perfect preparation for the Tour for Indurain, who doubled up the Giro and Tour titles in 1992 and 1993.
More recently, and principally since Christian Prudhomme took over as Tour director in 2007, the amount of time trialling in all three of the Grand Tours has been reduced dramatically.
Their routes are now designed with the intention of keeping the overall result in the balance until the penultimate stage, before the final-day procession into Milan, Paris or Madrid. Consequently, the Grand Tours have become very different tests to the races they were in the latter part of the 20th century.
Contador and Nibali
With the level between the top riders much tighter than it has ever been due to improvements in training and the introduction of the blood passport, there are no longer any riders who can stomp through the Classics and then make the switch to Grand Tour patron.
Specialisation has become de rigueur, even within the Classics. Merckx may have won all of the Monuments, but there are few riders in the current era that even ride all five.
As for the Grand Tours, three riders stand apart: Contador, Froome and Nibali, who rank in that order in terms of victories. Which of them is the outstanding Grand Tour racer of the era? There are good arguments to support each of them having that honour.
Contador's seven Grand Tour podiums (he was stripped of two further successes for a doping violation at the 2010 Tour) were all victories. Flamboyant, never-say-die, the newly retired Spaniard has been brilliant to watch. Like Contador, Nibali has triumphed in all three Grand Tours, compiling a hugely impressive 10 podium finishes.
The Italian, too, is thrilling at his best, particularly when in full flight on a descent, his rivals scattered in his wake.
As for Froome, he now boasts nine podium finishes, with second places to add to his five Grand Tour wins. On that basis, the Contador, Froome, Nibali ranking looks correct.
Yet, analysis of the results when these great riders have gone head to head points to another conclusion, with Froome being the pre-eminent of the trio.
The Briton has never lost out to Nibali in a Grand Tour, and has generally had the upper hand on Contador. On the two occasions that the three riders have gone head to head in the same Grand Tour, the Briton has triumphed, beating Contador and Nibali by a distance at the 2015 Tour and again at the recent Vuelta.
Calm under pressure
While there's no doubt Contador may have been past his best on both occasions, Nibali — who is only six months older than Froome — came
into the Vuelta this year in his very best condition and admitted he could find no chinks in Froome's armour, despite preparing specifically for the Vuelta while Froome and Contador were otherwise engaged at the Tour de France.
The fact that Froome described it as the toughest Grand Tour he had ever ridden only heightens his achievement in winning it on the back of his Tour success.
"Every day felt like a battle for the general classification in one way or another," Froome told L'Équipe. "There weren't any simple days.
And I also think that the style of racing took a big toll, because it was flat out every day."
The pressure doesn't relent when racing finishes. Whereas the likes of Merckx, Hinault and Indurain were never obliged to attend a post-stage press conference, Froome generally has to devote at least an hour to the media after racing, usually answering the same one or two questions multiple times before he can recuperate from the day's efforts.
Speaking to Cycling Weekly on the Vuelta's second rest day in Logroño, Sky boss Dave Brailsford expressed his admiration for the way that Froome was responding to the challenge.
"We came into the race with a simple plan for Chris to gain as much time as possible early on and then defend his lead. But, as he's shown in the past, he's always ready to seize an opportunity at any point if he sees one.
"He's also supremely calm even when under immense pressure. It helps that he's got Nico Portal in the team car behind him, who's also extremely calm in those situations. Between them they tend to come to the right judgement on what to do when a decision needs to be made quickly," Brailsford explained.
Having an extremely strong Sky team around him has undoubtedly enabled this, but he has repeatedly demonstrated the ability to triumph even when the course doesn't suit him or he's below his best. He could have won the 2012 Tour with its two long trials, but has also contended in and finally won the Vuelta, which is very much a climb-fest.
Froome is completely adaptable. Very clever when it comes to varying his tactics, quick to seize on the slightest weakness shown by his rivals, and capable of bluffing when it comes to concealing his own, Froome has become the model for the modern Grand Tour champion.
Merckx may not appreciate him and the way that the sport has changed, but Hinault is more pragmatic about the new realities of the sport.
He not only applauded Froome's Tour-Vuelta double, but suggested that the Briton can win all three Grand Tours in the same season, explaining: "When you race in the way that Froome has raced, that's to say by being clever, never panicking, without trying to create extraordinary gaps at every opportunity, then that is perhaps the key to success."
Thank you for reading 20 articles this month* Join now for unlimited access
Enjoy your first month for just £1 / $1 / €1
*Read 5 free articles per month without a subscription
Join now for unlimited access
Try first month for just £1 / $1 / €1