The darker side of cycling: Vuelta a España riders racing for a 2017 contract
Some riders go into the Vuelta a España with no clear idea of what their future holds, with their contracts expiring at the end of the season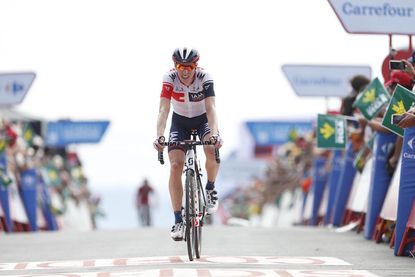 (Image credit: Yuzuru SUNADA)
The Vuelta a España races into its second weekend while another race – one for 2017 team contracts – is going on at the same time.
Two teams are closing and leaving the WorldTour at the end of the 2016 season, leaving around 60 riders looking for new jobs. Thankfully, most cyclists from IAM Cycling and Tinkoff have contracts in place, but a few still search. And along with those, others from rival teams are hunting for new places with their contracts expiring.
"I have experience at it, even though there's a bit of added pressure on me just because you don't know," American Larry Warbasse of IAM Cycling told Cycling Weekly. "If it doesn't go well, you could be without a job."
The transfer season truly hits its peak in July during the Tour de France, when teams with space to fill and riders who are free for the following year begin to speak seriously. It is unofficial, of course, as contracts cannot be made until August 1 according to the UCI's rules.
Many teams already have deals made with riders but are still slowly rolling out their press releases to announce their new acquisitions for 2017. Of the expected 17 to 18 WorldTour teams for 2017, most have around 10 to three spots left to fill.
"Maybe if you don't have results it's stressful," said Gianni Meersman (Etixx–Quick-Step), winner of two stages in the Vuelta. "I don't have stress because I already have an agreement. On the rest day [Tuesday], I will announce it.
"My advice to the others is just not to think about it and work hard, but if you are a helper, that's not easy."
The yellow-kitted Tinkoff cyclists are working for their leader, three-time Vuelta a España champion Alberto Contador. In IAM, without a clear leader, the nine men have chances to escape and sprint for wins like Jonas Van Genechten did on Friday.
"For sure, there are small things that are not fine because everybody is stressed, but overall the situation is fine," Tinkoff's Michael Gogl said.
"I am a neo-pro, I came to the team and I thought I was fine for two years but yeah, it was just for one year. It was not nice, but I've been lucky to sign a two-year deal, which I'll announce soon."
>>> Cycling transfers 2017: All the ins and outs from the WorldTour
Belgian Van Genechten is linked to Cofidis, but his IAM team-mate Vegard Stake Laengen still searches.
"I am more or less used to this job hunt," Laengen said. "I've been in this position before and I've gone back to a Continental team. I try not to think too much about it and just rest and have fun."
Laengen made the escape group in Friday's stage and showed himself. Warbasse did so in stage four. Every day, IAM is active.
"We have a good team for the breakaways. so these guys should be happy here in IAM and not in the other teams where they have a Grand Tour leader," added Laengen.
"I think about not having a contract a little bit in the Vuelta. If I do go back to the Continental level, of course that will mean less money. But I can't worry about it here in the Vuelta."
Thank you for reading 20 articles this month* Join now for unlimited access
Enjoy your first month for just £1 / $1 / €1
*Read 5 free articles per month without a subscription
Join now for unlimited access
Try first month for just £1 / $1 / €1