Gabriel Cullaigh and Megan Barker win opening round of Tour Series in Redditch
JLT Condor and Team Breeze take the team honours as the 2018 OVO Energy Tour Series kicks off in Worcestershire - Photos by Andy Jones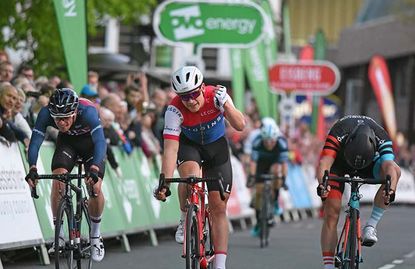 (Image credit: Andy Jones)
Gabriel Cullaigh (Team Wiggins) and Megan Barker (Team Breeze) came away with the victories in the opening round of the 2018 OVO Energy Tour Series hosted by Redditch on Thursday evening.
Cullaigh came out on top in the final sprint in the men's race, out-pacing Tobyn Horton (Madison Genesis) and Tom Moses (JLT Condor) from the reduced lead group.
Cullaigh said that the key to success on the Worcestershire circuit was to take the bull by the horns.
"We rode aggressively as a team – you've got to ride like that in the Tour Series," he said. "We never missed a beat today.
"Getting into the final lap with the six of us together I knew I could win it – I just had to keep the pace high and lead coming out of the final corner. Tobyn was coming up quickly but I knew he wouldn't get past me."
Despite Cullaigh's win for Team Wiggins it was defending champion JLT Condor who took the team honours on the night ahead of Madison Genesis and Canyon Eisberg, with Team Wiggins in fourth.
>>> Tour Series 2018: Latest news, reports and race info
Barker took the victory in the women's race after putting herself into a three-rider break alongside Anna Henderson (Team OnForm) and Nikki Juniper (NJC-Biemme-Echelon).
Barker's Team Breeze also took the team honours on the night.
Barker said after the race: "It was an attacking race from the start. My Team Breeze team-mates were getting involved brilliantly – I knew that if there was going to be a split one of us would be in it because we were always up there.
"I ended up making the move that stuck by counter-attacking one of my team-mates, so that worked really well. I was finding it tough so I thought everybody else would be, too, so I really dug in."
The next round of the eight-date series takes place in Motherwell, North Lanarkshire, on Tuesday, May 15. The series concludes in Salisbury, Wiltshire, on May 31.
Television highlights of the race will be shown on ITV4 on Saturday, May 12, at 10.45pm.
Results
OVO Energy Tour Series 2018, roud one: Redditch, Worcestershire
Men's result
1. Gabriel Cullaigh (GBr) Team Wiggins, in 1-12-19
2. Tobyn Horton (GBr) Madison Genesis
3. Tom Moses (GBr) JLT Condor
4. James Lowsley-Williams (GBr) Canyon Eisberg, at 1 sec
5. Hayden McCormick (GBr) One Pro Cycling, at 2 sec
Men's team standings
1. JLT Condor, 10pts
2. Madison Genesis, 9pts
3. Canyon Eisberg, 8pts
4. Team Wiggins, 7pts
5. ONE Pro Cycling, 6pts
Women's result
1. Megan Barker (GBr) Team Breeze, in 45-50.254
2. Anna Henderson (GBr) Team OnForm, at same time
3. Nikki Juniper (GBr) NJC-Biemme-Echelon, at 1 sec
4. Manon Lloyd (GBr) Trek-Drops, at 25 secs
5. Neah Evans (GBr) Storey Racing, at 26 secs
Women's team standings
1. Team Breeze, 10pts
2. NJC-Biemme-Echelon, 9pts
3. Team OnForm, 8pts
4. Storey Racing, 7pts
5. Trek-Drops, 6pts
Thank you for reading 10 articles this month* Join now for unlimited access
Enjoy your first month for just £1 / $1 / €1
*Read 5 free articles per month without a subscription
Join now for unlimited access
Try first month for just £1 / $1 / €1