Galloway takes surprise silver in National 10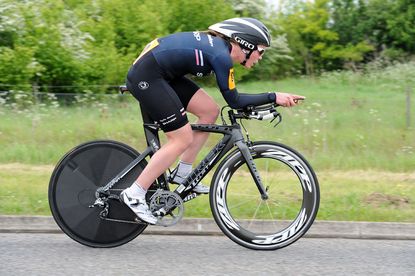 Oxford-based medical student Claire Galloway was a surprise women's silver medallist in the National 10-mile time trial on Sunday - only her second national time trial championship.
The 24-year-old finished fourth in the 2010 '25' championship just months after taking up the sport to regain fitness after a back injury, but missed most of last season due to illness and had again been struggling in the month leading up to the event.
"It's just nice to get back racing - I wasn't really expecting anything," said Galloway, who left for a stage race in South Africa the following morning.
"I do a lot of road races and consequently I've not done many time trials, but I enjoy them - it's just you and your bike.
"I'll be doing the national '25' and trying to medal in that, and really I'm looking for a consistent season of racing."
* The men's team title went to www.drag2zero.com, even without two of the riders - Jeff Jones, recovering from a cold, and Derek Parkinson - who broke the 25-mile competition team record last month.
Charles McCulloch, sixth, and Jon Simpkins, eighth, backed up second-placed Matt Bottrill who, enduring another championship near miss, conceded that he could not have done any more in his quest for an individual title.
"I've gone up a step, but so has Michael (Hutchinson)," he said. "I've put in a lot of hard work to get to where I am now, and I couldn't have ridden any harder."
Related links
Hutchinson and Shaw win 2012 National 10 titles
Thank you for reading 10 articles this month* Join now for unlimited access
Enjoy your first month for just £1 / $1 / €1
*Read 5 free articles per month without a subscription
Join now for unlimited access
Try first month for just £1 / $1 / €1
Snowdon Sports is a long-established independent sports news agency, which supplies editorial to a range of media outlets - such as Cycling Weekly - as well as sports governing bodies. Snowdon Sports often covers results at Cycling Time Trials events in the UK and has long been a source of information and imagery to Cycling Weekly.