Gianni Moscon: 'I was never afraid for my contract, the team were always behind me'
The Italian has returned to racing with strong form after a being kicked out of the Tour de France in the summer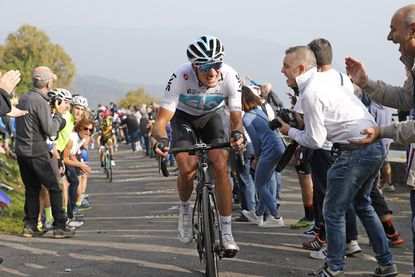 (Image credit: Yuzuru SUNADA)
Italian Gianni Moscon thanks Team Sky for backing him in the "big mess" of the Tour de France this summer and allowing him to return victorious.
On Friday, he won the summit finish of the Tour of Guangxi in China and positioned himself to win the race overall in two days. The Mashan mountain win comes three months after the jury disqualified him for punching another rider at the Tour de France.
>>> Team Sky announce singing of Italian Filippo Ganna from UAE Team Emirates
"I don't know, I don't now what to say. We spoke so much about it already. It was a big mess," Moscon told Cycling Weekly.
"The decision was made, and it it's not nice when they send you home from the Tour de France like that. For that reason. I don't know. Well, look at it, you know, everyone saw it and can make his opinion."
He threw a punch towards Elie Gesbert (Fortuneo-Samsic) towards the start of the 15th stage. Moscon was then sent home while Sky team-mate Geraint Thomas went on to win the race overall.
"Yeah, we spoke, and he was very polite with me. Geraint and the whole team were interested in how I was doing and it helped me still feel like I was in the Tour group. Maybe for that reason, I was able to train well and return strong," Moscon said.
"Dave Brailsford always was behind me. I wasn't and I'm not afraid for my contract.
"Team Sky stayed close to me, I should say, maybe even more so than beforehand. I'm happy with how I was treated by the team. But I don't know, there's not much more to say about that episode."
Moscon served a five-week suspension and came back from the episode winning. He finished first in return race Coppa Agostoni and won the Giro della Toscana and the national time trial championship.
The incident followed those in 2017: a racial slur in one race and in another, he was accused of pushing a rider off his bike. He sat out for the slur but the UCI disciplinary commission could not find evidence to support the push claim.
He wants to return supporting his team-mates and winning, as he did in the three-kilometre summit stage in south China. He worked for Chris Froome's Vuelta a España overall win in 2017 and helped Thomas to the Tour victory before returning home this summer.
In the Classics, Moscon finished fifth in the 2017 Paris-Roubaix, then only 22 years old. In 2018, he appeared below his best.
"The end of season let me get out there and enjoy some victories, it felt like I had some satisfaction after the tough spring and summer," he explained.
"I'm not going to change, I'll keep training like always with motivation that's higher than before after everything I've gone through. You know the issues. I just need team to grow, my condition will follow.
"I had great form in the 2017 Classics, everyone saw that, so that sat a high bar. But at the end of the 2018 season, I am still the same strong cyclist. I think if I get the training right then I'll be right back up there again at the front."
If Moscon can hang on for two days, he will win the Tour of Guangxi overall and end 2018 on a high-note.
"The most important thing was winning today. I have a strong team with me. Also, my condition is good," he said to media after the stage in the blunt, low-altitude mountains.
"It has been a difficult season. I started with an injury, a broken scaphoid, and everything that you already know. And finishing the season like this is a good end of the season."
Thank you for reading 20 articles this month* Join now for unlimited access
Enjoy your first month for just £1 / $1 / €1
*Read 5 free articles per month without a subscription
Join now for unlimited access
Try first month for just £1 / $1 / €1