Crunch time for Mark Cavendish's sprint train at the Giro d'Italia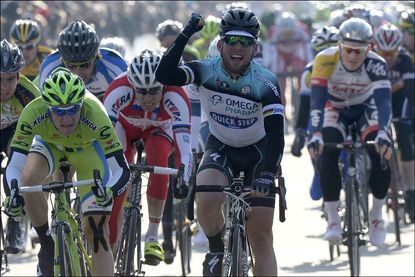 Mark Cavendish and team Omega Pharma-QuickStep are trying to get their sprint train in order after a turbulent spring. Team boss, Patrick Lefevere spoke to his sprint star after the Scheldeprijs slip to reassure him ahead of the Grand Tours, including the Giro d'Italia starting on Saturday in Naples.
"We are trying to put the right guys in the right places," Lefevere told Cycling Weekly. "We are trying out something new at the Giro d'Italia with the riders we have."
After signing over the winter, the former world champion has suffered somewhat. He got off to a great start in the Tour of Qatar, winning four stages and the overall, but stumbled afterwards. The team botched two sprints in Tirreno-Adriatico and left Cavendish high and dry in his beloved semi-classic, Scheldeprijs.
"It's frustrating," sport and development manager, Rolf Aldag told CW in the days after the race. "If they just weren't good enough, we'd tell them to pack their bags and go to a training camp, but that's not the case."
Lefevere, Aldag and other team brass spoke about the issue over the last weeks. Lefevere made a last-minute (failed) attempt to bring in Alessandro Petacchi, but the decision was to try to get the best out of their existing riders until the end of the season.
Cavendish relies on Iljo Keisse, Gert Steegmans and Matteo Trentin for the Giro d'Italia.
"The Giro will be different than in the one-day classics," Lefevere added. "We will be 100 percent focused on Mark and I think it will work."
Treno per Napoli
The Saturday circuit stage in Naples will be key to Omega's Giro. Not only is the pink jersey up for grabs, but a win would inject an instant confidence boost for the train.
Michal Golas and Jérôme Pineau will put the engines in place. Keisse will take over, in the final 10 to five kilometres. Omega management thinks he can step into the road captain role Bernhard Eisel had in Highroad and Sky.
"It's not about the legs, or the desire, it's about having a leader. Mark was so used to Bernhard Eisel directing the traffic; this is what we don't have. They are good guys, but they do not have the guts to take the lead and give some orders," Lefevere added.
"We have to figure that out in the Giro. It's not enough to say it, you have to do it. It's not easy, because someone like Tom Boonen has the charisma to say it, and everyone does it. I remember when I had Wilfried Peeters, he said do this and do that, all I had to do was lift my finger and he knew everything."
If Keisse slots into the role, Steegmans and Trentin will be able to lead Cavendish easily to the line. Trentin was destined to be Cavendish's last man, but a scaphoid fracture disrupted his spring.
"I hope they get the message and see the chance and take motivation out of it," Aldag added. "There's no point in giving up on 2013 now, I think they are strong enough to get it together. We have to give them the confidence that they can do it."
Looking ahead to 2014
Cavendish and Sky's inability to annul their contract until late into 2012 left Lefevere with little time to sign support riders. However, his options are open for 2014.
Around 10 Omega riders' contracts expire and several teams may fold (RadioShack, Blanco and Vacansoleil), which leaves Lefevere plenty of options.
Related links
Alessandro Petacchi to lead out Mark Cavendish at the Giro?
Giro d'Italia 2013: Who will win?
Read Cycling Weekly magazine on the day of release wherever you are in the world with our iPad and iPhone edition - International digital edition, UK digital edition. And if you like us, rate us!
Thank you for reading 20 articles this month* Join now for unlimited access
Enjoy your first month for just £1 / $1 / €1
*Read 5 free articles per month without a subscription
Join now for unlimited access
Try first month for just £1 / $1 / €1