RCS dismisses any chance of 2017 Giro d'Italia start in Japan
Rumours that the Italian Grand Tour would visit the Far East sprung up on Tuesday night, but RCS Sport have said they are wide of the mark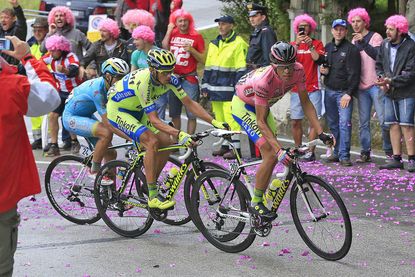 (Image credit: Watson)
The 2017 Giro d'Italia starting in Japan is "impossible" due to the timing and the year, says RCS Sport cycling director Mauro Vegni, despite reports otherwise overnight.
Belgian website Sport/Voetbalmagazine reported on Tuesday that the 2017 Italian Grand Tour would begin in Shizuoka with four stages, including one up Mount Fuji.
It would be the first time for any Grand Tour to begin outside of mainland Europe. Organiser RCS Sport, however, said that it will not happen in 2017.
"This is not something that you can do already for the next year, it takes time, agreements from the UCI and from the teams," Vegni told Cycling Weekly.
"So two things, it's too early and it's 2017, the 100th edition of the Giro. I'd like to have a Giro that stays in Italy to celebrate the start of this Grand Tour in 1909. I've always said that's the case with the 100th edition."
The Giro is due to start abroad for the 12th time in 2016 in The Netherlands. The first time it did so in 1965 it visited enclave San Marino.
Watch: The 10 best riders right now
Taking one of cycling's big three races so far away from its homeland would require several pieces to fall into place. The cyclists and the rest of the race caravan would need to overcome eight hours of jet-lag and recover from a 22-hour flight. A search showed no direct flights.
"It's too far," Vegni said. "How many extra days of rest would we need to have just to return? At least two. Already this year for the start in Holland, I had to push hard to get that extra day."
For the start in Apeldoorn and in Belfast, the Giro organiser added a third day of rest instead of the usual two with permission from the UCI.
According to the article from Belgium, the details have already been sorted. The €35m or £24.7m budget would be sorted by Asatsu-DK, the third largest advertising company in Japan, with €15m going to RCS Sport. The 22 teams would receive €500,000 from RCS Sport each for their troubles.
The article quotes an unnamed source in Belgium saying that an agreement would be made by the end of the year between the UCI and RCS Sport for the extra travel days needed.
It noted several links between the two countries, including the Carnia Classic Fuji Zoncolan. The Gran Fondo last August 30 linked Italy's Friuli-Venezia Giulia region with Shizuoka Prefecture.
"Link to Japan? Sure, there are links, but they are at the base level. Maybe they are here for the EXPO 2015 and like the idea of the Giro, we exchange a couple of words," said Vegni.
"I get proposals from all over, America, the Middle East. It comes down to a lot of planning and time. 2017 is too soon to do such a thing."
Thank you for reading 5 articles this month* Join now for unlimited access
Enjoy your first month for just £1 / $1 / €1
*Read 5 free articles per month without a subscription
Join now for unlimited access
Try first month for just £1 / $1 / €1