Richie Porte ready to lead Team Sky at the Giro d'Italia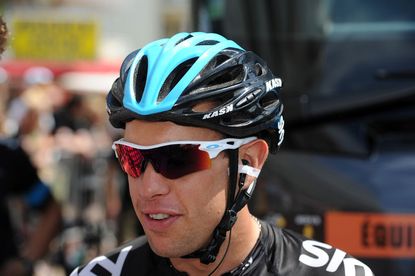 Richie Porte takes leadership lessons from Sky team-mates Chris Froome and Bradley Wiggins. He helped them win the last two editions of the Tour de France. This year, Sky gave the Tasmanian the freedom to lead the team in the Giro d'Italia, where he will need all the experience possible to win.
"Chris and Brad are role models," Porte told Cycling Weekly.
"Brad won everything [in 2012], everyone is quick to forget that. Chris is always someone great to ride for and there's never a problem. There's never a clash. He's real chilled out. He went into the Tour ready to win, it might be the best example to give. They are two handy guys to learn off of, for sure."
Porte rose quickly though the ranks. In his debut year, he took the pink jersey for three stages at the Giro d'Italia. He continued to place three overall and win the young riders classification. In 2012, he switched from Saxo Bank to help Sky win the Tour.
Helping Froome last year, he placed second in the Critérium International and the Critérium du Dauphiné, and eighth in the Tour of Romandy. Given his chance to lead, he won Paris-Nice and placed second in the Tour of the Basque Country.
"I had my opportunities in Paris-Nice and País Vasco where I had a team at my disposal but I'm still learning how to manage the guys," Porte added.
"You look at Chris Froome at the Vuelta [2012] and at the Tour, it was like two totally different people. He's learnt how to manage his troops and get the best out of everyone. He's someone for me to look to."
Leadership: That's a massive one
This year's Giro d'Italia starts May 9 in Belfast. It will as it travels from the south of Italy to the mountain passes in the Alps. After the 46.4-kilometre time trial to Barolo, in Piedmont's wine famous regions, summit finishes feature the menu. In the nine days of racing from Barolo to Trieste, six end on a high note.
Porte said that he will improve his time trial riding and that he climbs well. He added that the importance of leadership is "massive."
"The key for me in the Giro is to not get sick. We've seen the weather can be a massive factor," he said.
"With age I'm getting stronger anyhow. I'd like to think my time trial riding can get a little bit better. I'm working on positioning and things like that with the team. I'm quite confident in my climbing abilities. I don't want to give always all of my secrets.
"Improvements? The whole thing of working for myself, that's a massive one."
Related links
Richie Porte aiming for Giro d'Italia win in 2014
Thank you for reading 20 articles this month* Join now for unlimited access
Enjoy your first month for just £1 / $1 / €1
*Read 5 free articles per month without a subscription
Join now for unlimited access
Try first month for just £1 / $1 / €1