Groenlund wins national hill-climb championships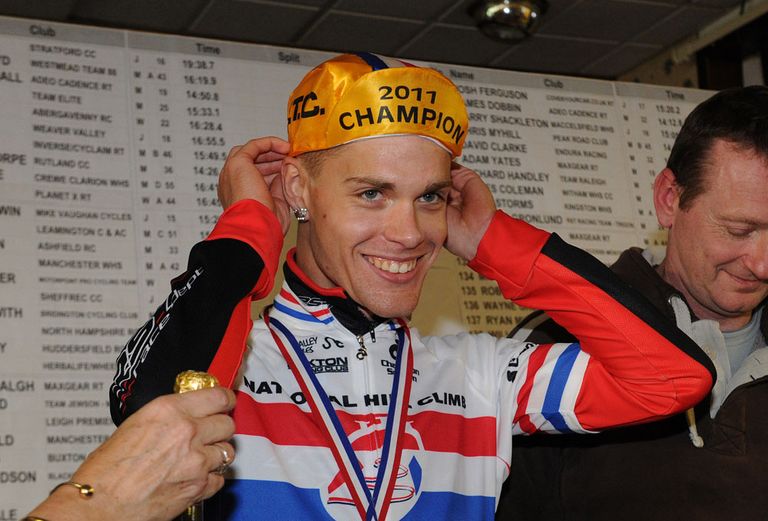 British hill-climb national championships 2011 photo gallery by Andy Joens>>
RST Racing Team's Swede Gunnar Groenlund was crowned national Hill-Climb Champion after a strong performance on Long Hill in Derbyshire on Sunday.
The former mountain bike international covered the 4.44-mile aptly-named Long Hill course in 12min 49sec to win by 7.1 seconds against a classy field full of former champions and exciting future talent.
Second spot went to 21-year-old Warrington-based rider Richard Handley (Team Raleigh) who held off former champion Matt Clinton (Mike Vaughan Cycles) by just 1.4 seconds.
"I'm very pleased with the win and with my time" said Groenlund. "It's always hard to tell how good your time is until everybody has finished, but I felt good during the ride even though there was a bit of a head wind."
Groenlund, 24 and based in Chesterfield, has been a UK resident for more than two years and therefore qualified to ride in the national Championship and receive the champions' jersey and medal.
He rode for Twenty 3C for the early part of the season, but switched to RST Racing Team and has concentrated on the hill-climb season for the second half of the year.
"This has been my aim for the last few months, I've been a man on a mission. A lot of people have said the course was too long, but it's still a hill. But most of the guys rode with time trial bikes and tri bars, and I would've preferred a shorter, steeper hill.
"There were so many good guys in the field so I was wary of my chances, but it's turned out great in the end.
"I'm please to win this because I'm still looking for a team for next year. I've been really happy with the support I've had with RST, but I would be happy to get a ride with one of the bigger teams."
Pete Tadros (In Gear-Quickvit RT) was the fastest veteran, his time of 13:19.5 being good enough for ninth overall, while Team Jewson youngster Josh Teasdale was fastest junior in 21st with 13:58.1.
And Herbalife-Wheelbase rider Lyn Hamel was best of the women, her time of 15:38.6 being 21 seconds faster than her nearest female rival, and was good enough for 74th overall in a field of 150.
Farewell Hayles
The event will also be remembered for bringing down the curtain on Rob Hayles cycling career. The popular rider has been a national champion on the road and twice world champion on the track. He chose this event partly because of its position, he lives at the bottom of hill in Whaley Bridge.
There was a groundswell of support for Hayles, who wrapped up his career with 14th place. "I'm really happy with how it went. As soon as I got my legs warmed up and a number on my back, I felt really good - I wasn't expecting that," Hayles said
"And I really enjoyed it: the crowd was incredible," he added.
More in this week's Cycling Weekly magazine, on sale from Thursday.
Results

RTTC championship hill climb, Long Hill, Whaley Bridge, 4.4 miles
1. Gunnar Groenlund (RST Racing Team - Trigon) 12-49
2. Richard Handley (Team Raleigh) at 7sec
3. Matt Clinton (Mike Vaughan Cycles) at 8secs
4. George Atkins (Velo Ecosse-Montpeliers) at 10secs
5. Tejvan Pettinger (Sri Chinmoy CT) at 13secs
6. Michael Hutchinson (In Gear Quickvit Trainsharp RT) at 18secs
7. James William Tucker (South Pennine RC) at 21secs
8. Mike Cuming (Twenty 3C-Orbea) at 26secs
9. Pete Tadros (In Gear Quickvit Trainsharp RT) at 30secs
10. Dave Clarke (Endura) at 33secs
Women: Lyn Hamel (Herbalife)
Gunnar Groenlund on his way to victory
Lyn Hamel, women's winner
Richard Handley, second
Matt Clinton, third
Related links
British hill-climb national championships 2011 photo gallery by Andy Jones
British national hill-climb championships 2011 preview