How drone technology could be used by motor doping cheats
Advances in the power and battery life of tiny motors could prove tempting for riders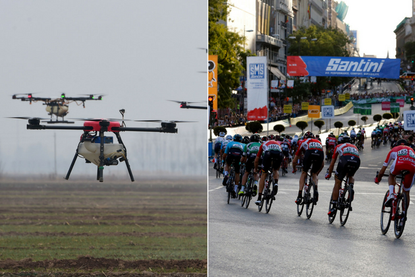 (Image credit: VCG/Getty Images/Yuzuru Sunada)
Advances in drone technology could be opening the door for riders to cheat with the use of hidden motors in bikes, according to a senior figure in the UCI's fight against so-called "technological fraud".
Bob Stapleton, who was a technology entrepreneur before becoming owner of the HTC-Highroad team and now sits on the UCI Management Committee, said that the tiny powerful motors used in drones could be easily adapted to used in bikes.
"Drones have very small and very high performing motors which could be adapted to the types of wattage we're talking about here. Those sort of things do worry me," Stapleton said as the UCI unveiled a range of new methods to help detect hidden motors in bikes.
"Modest amounts of additional power can be decisive. In a sprint an extra 200 watts can decide outcome of the race. Similarly 30 watts over the course of a five hour race can dramatically affect the outcome.
"Both of these different power outputs are within the capabilities of e-bikes, but also less obvious things like drones. This is a big, attractive market that has seen rapid change."
>>> 43-year-old amateur motor doper receives his punishment... including a €1 fine
The small motors used in drones have seen considerable technological improvements in recent years, with some custom-made drones now able to stay airborne for up to two hours at a time.
However despite the advances in technology, Stapleton says that he does not believe that motors have been used by professional riders in the past beyond the case of Belgian cyclocross rider Femke Van den Driessche who was caught with a motor in her spare bike at the Cyclocross World Championships in 2016.
"I personally don't [think that motors have been used in the past]. But I do think that it is a threat," Stapleton continued.
"This doesn't keep me up at night, but I'm still concerned. The last thing our sport needs is another challenge to our credibility, so I think it's appropriate that we jump on this and make sure that this is never something that jeopardises our sport."
Watch: What's it like to ride a motorised bike?
On Wednesday the UCI unveiled a new x-ray machine that it will use to test bikes for hidden motors (which would be able to spot drone-like motors hidden within frames) as well as the development of other detection methods including small magnetometers which could be fitted on individual rider's bikes to detect motors being used in the middle of the race.
Stapleton was involved in the development of these new methods of detection, and believes that it will soon be nigh-on impossible for riders to use motors in races without detection.
"I think we're ahead of the curve," Stapleton said. "If there's a motor in a bike and you put it in an x-ray machine then you're going to find it. A wheel whatever. There's no hiding.
"It's nice to be there with effective deterrents and penalties before you really have a problem on your hands."
Thank you for reading 20 articles this month* Join now for unlimited access
Enjoy your first month for just £1 / $1 / €1
*Read 5 free articles per month without a subscription
Join now for unlimited access
Try first month for just £1 / $1 / €1