Hutchinson sets new 25-mile competition record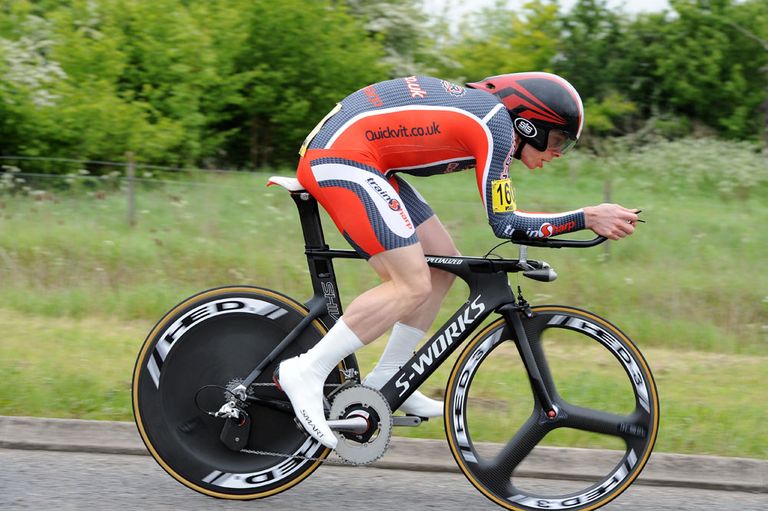 Just two weeks after clinching the National 10-mile competition record, Michael Hutchinson (In Gear-Quickvit RT) added the 25-mile competition record to his collection.
The 38-year-old London-based Northern Irishman clocked 45 minutes and 46 seconds for the distance on the R25/3L course from Glynneath to Resolven and Aberdulais in South Wales.
Port Talbot Wheelers were blessed with almost perfect conditions for their event on Sunday, where Hutch sliced eight seconds off the previous record from 2009, held by David McCann.
"Just like the 10 record a couple of weeks ago, I wasn't really going there intending to go for the record," said Hutchinson afterwards. "I like racing in Wales because I've done quite a few races there over the years and met quite a few people so it's good socially.
"The conditions weren't quite as good as they were for the 10 and I felt like I had seen better days on that course, but obviously haven't gone quicker. There was a bit of a breeze but if it's in the right place it helps you."
Clearly a man with some superb form, Hutchinson lowered the 10-mile record by 12 seconds a fortnight ago in East Yorkshire, and that record now stands at 17-45.
But which record is he more proud to hold?
"I already held the 10 record, so I was breaking my own mark, whereas I've never held the 25 record.
"Years ago I would've thought that the 25 was easier to break than the ten, but in fact I've broken the 10 twice since then. I don't know which record I'm prouder to hold though. The 25 record has been around longer, but I like tens because they are faster so I really don't know."
Related links
Hutchinson: New 10 record was a surprise
Thank you for reading 5 articles this month* Join now for unlimited access
Enjoy your first month for just £1 / $1 / €1
*Read 5 free articles per month without a subscription
Join now for unlimited access
Try first month for just £1 / $1 / €1
Snowdon Sports is a long-established independent sports news agency, which supplies editorial to a range of media outlets - such as Cycling Weekly - as well as sports governing bodies. Snowdon Sports often covers results at Cycling Time Trials events in the UK and has long been a source of information and imagery to Cycling Weekly.